Go Fly A Kite!
Ken Neill
Published in The Angler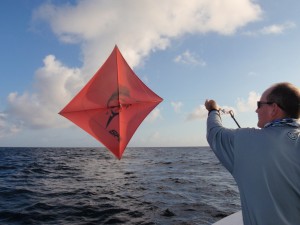 It seems like summertime was two years ago. Striped bass are not cooperating. The Hot Ditch is not hot. Flounder fishing will not heat up for months and cobia will be an even longer wait. The wind will not stop blowing and it is cold. Your boat spent the winter filled more with snow than fish. You have a bad case of cabin fever and because of that stupid groundhog; spring just is not springing fast enough. It may be time to go fly a kite.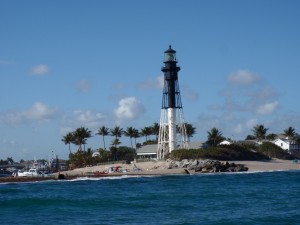 A trip to southeast Florida will bring you to summertime and to a magical place known as "Sailfish Alley". This is just what you need to warm up your bones and to get the blood flowing! My wife, Tricia, and I made this trip to summer. We had to shovel snow out of the Healthy Grin to go fishing the previous week and it was full of snow again. A trip to summer was much needed!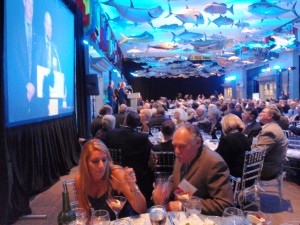 We actually went down to attend the annual banquet of the International Game Fish Association. Most will think of the IGFA as the keeper of world records. They are that as well as the body that defines what sport fishing is. The IGFA Museum is sport fishing's "Hall of Fame". A visit to the museum will immerse you into the rich history of our sport. But more than a keeper of records and history, the IGFA is a powerful advocate for recreational fishing and they are a world leader in fisheries research and conservation. To learn more about the IGFA visit: www.IGFA.org . We were at the banquet to receive a conservation award but if we were going to be down there anyway, I might as well go fishing.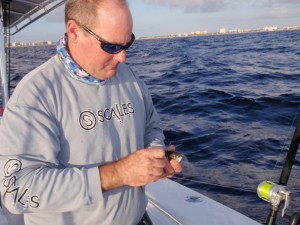 I contacted George Poveromo and told him when I would be down there. I asked him what I should fish for and who I should fish with. He said that we would be very close to his home port, Hillsboro Inlet, and the sailfish bite will be on and that I needed to fish with Capt. Skip Dana. Tricia and I decided that it was more important to be closer to fishing than to the IGFA Museum so we stayed just to the north of the inlet at the Embassy Suites in Deerfield Beach.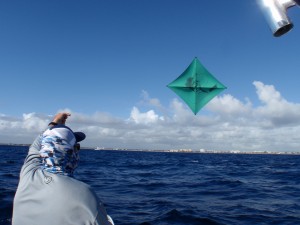 I met Skip at his boat bright and early the morning after the banquet. Tricia decided to sleep in and spend the day on the beach. Skip said the sailfish bite had been red hot the week prior but it had been really slow the last several days because it was too calm but we would give them a try. He thought we would have a better chance to the north and that we would be making a longer than normal run. His "long" run was all of 10 minutes out of the inlet. We were maybe four miles off of the beach when he started putting out the baits.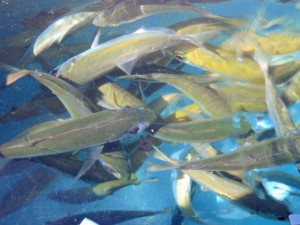 When I got to the boat in the morning, I had noticed the live-well full of baits and the kite rods. When I mentioned that I had wondered how we would be fishing, Skip replied, "If you are trolling for sailfish, you are doing it wrong".  He then said the up the coast, around Jupiter Inlet, the continental shelf extends out further from the coast and that they have more water to cover up that way and trolling ballyhoo is a more popular method up there. Were we were, the shelf edge and the Gulf Stream were close in to the beach and kite fishing with live baits was the method of choice. He said that the boats trolling in the area would mostly be targeting wahoo and king mackerel which were both biting right now.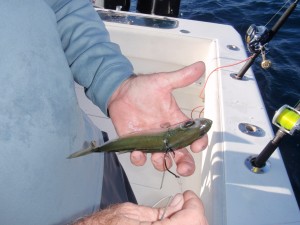 With the boat adrift, Skip deployed two "flat lines", free lines put out on the upwind side of the boat. One was rigged with a light wire leader with a trailer hook. This was for the wahoo and king mackerel that were in the area. Of course, our toothy fish bites all came on the other rods which were all twenty-pound mono mainlines with forty-pound leaders. A 7/0 circle hook attached with a loop-knot completed the terminal tackle. The hook was passed thru the nostrils or bridled to the back of the bait. On the downwind side of the boat, Skip flew kites from kite rods with electric reels. One kite was flown from the stern and one from the bow to cover the most water. Each kite was rigged to fish as many as three lines though we just fished two lines from each kite.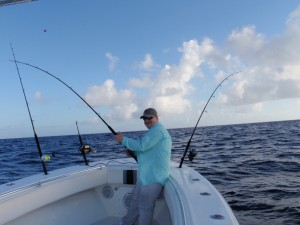 We had been drifting for about five minutes and Skip was still putting out the first kite baits when one of the free lines went off on a blistering run and soon a sailfish was leaping out of the ocean; so much for a "slow" bite. This fish was a nice one with a real attitude. Skip estimated it at about eighty pounds. After fighting it for about thirty minutes, one of the kite rods went off with another sailfish. This one was about half the size of the first one and much closer to the boat. I put the first rod in a holder and went to work on the second sail. We got the release on that one in about ten minutes and then it was back to the first fish. Another thirty minutes and I finally got that fish to the boat. I had not planned on working this hard during my visit to summer. Skip started to get the baits back out while I drank some water. The mid-eighty degree weather was now feeling rather warm to me.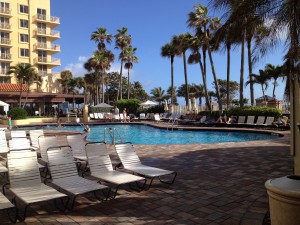 I asked Skip where the Embassy Suites was in comparison to where we were. He pointed directly towards shore and said there it is. I called Tricia; she said that there were a number of boats fishing right off of the beach. I said yes, we are that center console flying a red and a green kite right off of the beach and that I had just released my second sailfish and that this guy is going to kill me. Having no sympathy, Tricia just told me to "man up". I told her to get off of the beach and come on out and help me. She said that she was fine right where she was.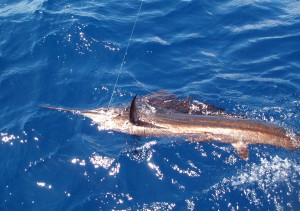 Capt. Dana actually owns two "drift" boats. We would call them head boats. He said that was how he earned a living. Sailfish are his passion. He said the Sailfish Alley bite begins in November and will continue on into June. We were there in early February and the bite was on but Skip says that the springtime is his favorite time because of the great mixed-bag fishery. In addition to the sailfish, you will catch a lot of dolphin, blackfin tuna, king mackerel and wahoo. If you cannot wait for summer to come to you, go visit it. For information about fishing with Capt. Dana, visit: www.bluewatermovements.com/captain_skip_dana.php  .