Spring Fever
Ken Neill
Published in Angler Magazine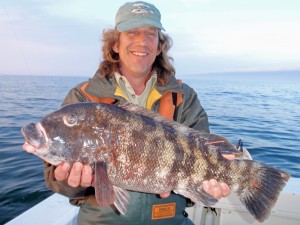 The ospreys have returned and the daffodils are in bloom. Spring is in the air and you have one thing on your mind…fishing. The water is still cold and our springtime runs of flounder, croaker, red and black drum have not started yet. There is at least one fish that you can target and the months of March and April are probably the best time of the year to catch them. When you get your boat de-winterized and break out your tackle, the tautog will be waiting.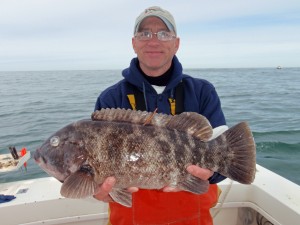 Tautog are a cold-water fish not typically encountered by summertime anglers. They are here all year but are not a common catch when the all of the aggressively feeding warmer-water fish are in residence. Tautog give us something to fish for when Spring Fever hits us early and we just have to get out on the water. It helps that the tautog is a challenge to hook, puts up a good fight, and is excellent table fare. You do not have to have a big boat and a lot of expensive tackle to fish for tog. They can be found in many easily accessible areas and they are just plain fun to catch.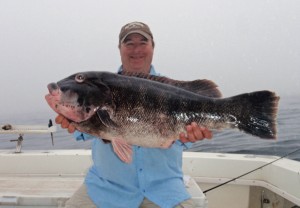 Tautog are an extremely structure-oriented fish. You will find them living in and around shipwrecks, artificial reefs, bridge foundations, rock piles and any other structure that provides them with protection and a source of food. Some popular local tautog hangouts include: Back River, Parramore, Tower, and Triangle artificial reefs, Cape Henry Wreck, Concrete Ships, Cell, and the structure of the Chesapeake Bay Bridge Tunnel.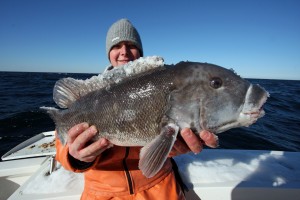 A typical early spring question is, "have the tautog arrived yet?" The answer is always yes. The fish never left and were on their home structures all winter long. What does happen is that they become very lethargic and feed very little when the water temperatures are very cold. A better question would be, "are the tautog active yet?"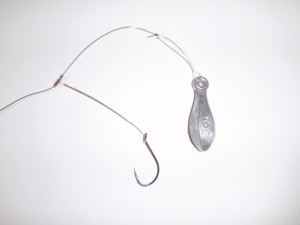 Water temperatures can be your guide as to where to fish for tautog. Togs have been active on the ocean wrecks all winter long and that is where you should fish for them at the very beginning of the spring season. As the waters begin to warm, the shallow waters of the Chesapeake Bay will warm quicker than the Atlantic Ocean and there will be a shift in where the most active tautog are. Even inside the bay, structures in shallow water will have active tog on them before the deeper water structures will. The time of day will be a factor during the early spring season. Tautog will bite from first light until last light of the day. When you are on the lower end of their active water temperature, you will often find a better afternoon bite as the sun warms the water and a slower morning bite as the water has cooled overnight.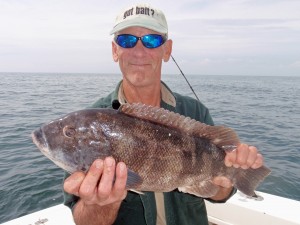 For structures inside the bay, a good working minimum water temperature is 44 degrees. I have caught tautog colder than that but expect fishing to be very, very slow. The fish really turn on when bay waters reach the upper 40s into the lower 50s. When the bay water temperatures are in the 50s, the tog bite in the bay is typically better than on the ocean structures where the temperatures may still be in the mid-40s.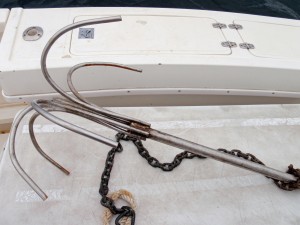 Tautog have a mythical reputation of being very hard to catch. They really are not that hard. The main thing that you have to do when targeting tautog, is to fish the structure. Close is not good enough when tog fishing. You need to position your boat so that your baits are in the structure. This can be done with your normal boat anchor. Anchor up current of the structure and let out enough anchor rode to position your boat over the structure. You can modify your boat position tying your anchor rode to a different cleat. Most tautog anglers will use a grappling type anchor to actually snag the structure you want to fish and then use a very short anchor rode to position the boat over the structure. These anchors come in various sizes for different sized boats.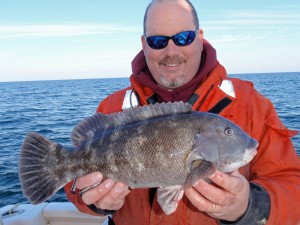 Once you are in proper position, it is time to fish. A wide range of tackle can be used. In general, 20-30 pound class tackle is used to give you enough force to get these fish out of the structure. Most everyone is using braided lines now to fish for tautog, typically about 50-pound test. Monofilament lines did the trick for many decades and still can be used. The braided lines do give you the ability to better feel what is going on down there. Terminal tackle is simple. A variety of bottom rigs can be used. Even the typical hi-low rig that most use to fish for croaker will work just fine. Most tog anglers expect to lose a lot of rigs in the structure and will typically make their own bottom rigs. You can use a 3-way swivel with a short leader to your hook off of one arm and short drop to your sinker off of another arm. An even simpler rig is to just take a piece of 50-pound test monofilament and tie loops at both ends, one to attach to your main line and the other to attach a sinker. Close to the sinker end, tie one or two dropper loops for your hooks. Most will just use one hook due to hanging up in the structure. If the structure is not too snaggy, I will often use two hooks so that I already have a second bait down there if I miss the first bite. Using 2 hooks can get you snagged up more often but sometimes you will catch tog 2 at a time. My first 20-pound tautog catch was actually 2 citation-sized togs hooked at the same time, with a two hook rig, over the spine of the 4th island of the CBBT early one spring. Hook size will range from 1/0 to 6/0 depending on the baits that you are using and the size of the tautog that you are catching.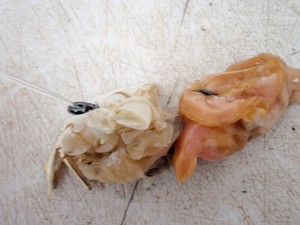 Baits can consist of most any crustacean or mollusk. Various crabs can be used as bait. With a blue crab, pop off the top shell and cut the crab into 4 sections. Clam is an excellent tautog bait. Cut large chowder clams into 2 or 3 baits making sure a piece of the foot is on each bait. A piece of calm and crab on the same hook is a hard morsel for any tautog to pass up. Sunny spring afternoons are an excellent time to find fiddler crabs out with their own version of spring fever. They make terrific tautog baits, especially inside of the bay. Fish fiddler crabs whole (or you can break off the big claw). At times, tautog will eat most any bait that you put in front of them. Other times, they really zone in on one bait type. It is frustrating when the boat next to you is killing them with clam and you only have crab. When possible, have a variety of crab and mollusk baits with you when targeting these fish.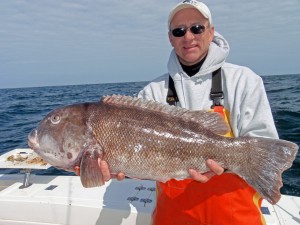 Round up some bait, get out there and do something about that Spring Fever!
Information about Virginia's artificial reefs: www.mrc.virginia.gov/vsrfdf/reef.shtm
For current tautog reports visit: www.vbsf-hookedup.net/healthygrin and you can like Healthy Grin Sport Fishing on facebook.