Pop-Up Rocks
Ken Neill, III
published in The Fisherman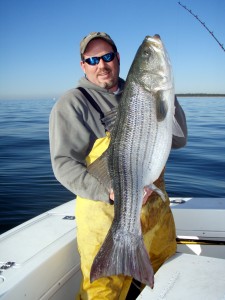 The American eel may very well be the perfect bait to catch jumbo-sized striped bass, or rockfish, as they are known in the Chesapeake Bay. There is nothing new about using eels to catch trophy rockfish but this old technique has soared in popularity over the past couple of years. Where there used to be fleets of boats trolling large lures, you now have flotillas drifting around with colorful bobbers streaming behind their boats.
Locations
Eels are excellent baits wherever large striped bass are found. In the lower Chesapeake Bay, there are two main areas where you will find this trophy fishery. The "bobber fleet" can be found along the bay side of Virginia's Eastern Shore. Buoy 18, off of the Concrete Ships at Kiptopeke is a very popular spot. The area along the deep-water channel from the Concrete Ships north to  Plantation Light/Buoy 36A  is a prime location to capture trophy striped bass. The other location you will find anglers using eels as bait to target rockfish is the High Rise section of the Chesapeake Bay Bridge Tunnel (CBBT). Many fish, weighing in at over 50 pounds, are pulled from the pilings of the CBBT each year.
Techniques and Tackle
Your heavy rods that you use to troll cannonball sinkers and big mojos are not needed for this fishery. Light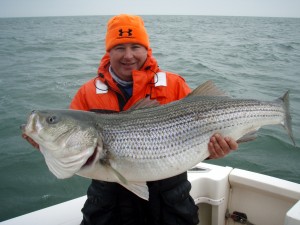 conventional or even spinning tackle works just fine. Gear in the 20-pound class is most commonly used. Terminal tackle is simple. Tie your main line to a swivel. Below the swivel, you have 3-4 foot leader to your hook. Leader size is in the 50 to 80 pound range. The size of the hook is determined by the size eels that you are using. A 7/0 hook is average. Both circle hooks and J-hooks are effective. Most anglers use J-hooks which has been a source of some concern. There is a greater chance of deep-hooking a fish while fishing natural baits with J-hooks. Put an eel on your hook, get it in the water and feed out some line. This is a "free-line". You can place an egg sinker above the swivel and suspend the eel at various depths. This is a "down-rod". You can also place a bobber or balloon on your line and suspend your baits at various depths and allow your floats to drift out from the boat. By combining these three types of rigs and using a little thought, a boat can put out quite a spread of eels without getting a big, tangled mess. At least, most of the time.
In open waters, anglers will usually fish while drifting. At the structure of the CBBT, you will find boats anchored up current of the bridge, feeding their lines back to the structure. Other boats will be backing up to the pilings from the down current side and dropping their eels in the eddy formed by the current passing around the piling. Still other boats will actually be tied to the bridge on the down current side. This is frowned upon by the authorities. The open water fishery, in the Concrete Ships area, is mostly a daytime event. The High Rise is best at nighttime so you can use eels to target jumbo rockfish 24 hours a day.
Time of Year
Striped bass are here all year but it is during the cold months that the big girls are here. When we are fishing with eels, we are targeting the larger, female fish. Think Thanksgiving time for this fishery to start getting good. December will be great. Virginia's Chesapeake Bay striped bass season closes on December 31. Nobody tells the fish that and this trophy fishery is often fantastic through February. Most anglers will move into the ocean waters where the season is open but more anglers are participating in this trophy catch-and-release fishery each year. The Virginia Saltwater Fishing Tournament awards anglers a trophy citation for released striped bass of a minimum of 44 inches and this includes fish caught in closed waters where catch-and-release is legal.
Troubles in Paradise?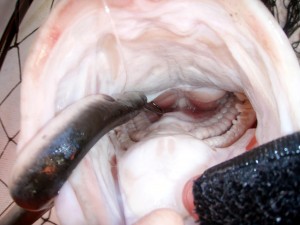 There have been concerns raised about this fishery. Should we be targeting these large females which will soon be moving to their spawning grounds? Even though they are being released, how many of these fish survive the experience?  Can we expect this live bait, J-hook fishery to cause more post-release mortality? Some suggestions have been made. Some would make the use of circle hooks a requirement. Discontinuing the award of release citations for fish caught in the bay after the December 31 closure has been suggested by others. They think that this would remove an incentive for anglers to continue fishing for these trophy fish after the season closes. Still others would make catch-and-release fishing illegal after the season ends.
Recreational striped bass fishing is a huge financial boon to the economy. Over $300 million are provided to the US economy annually and over $60 million is provided to Virginia alone. Charter boats, tackle shops, marinas, and hotels are all busy during the winter months since the striped bass population recovery. This is all generated by a mostly catch-and-release fishery. Over 90% of the recreationally caught striped bass are released. Catch-and-release fishing is a corner stone of sustainable fisheries and it is big business. How much damage is catch-and-release fishing doing to the striped bass population and in particular, what about Virginia's trophy eel fishery?
The Science
Hook-and-release mortality estimates for striped bass range from 3% to 67% based on a variety of studies.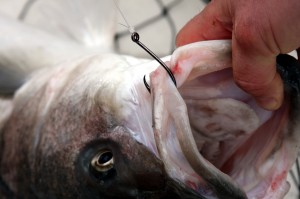 Currently, a 9% mortality estimate is used based on a study where fish were captured in a variety of ways, transported to salt ponds in Massachusetts, and then observed for mortality. This process introduces additional stresses to the fish which are not encountered in normal recreational catch-and-release fishing. These various studies have not been conducted in an environment matching our winter trophy fishery at the mouth of the Chesapeake Bay: cold water and air temperatures, high salinity, and large fish.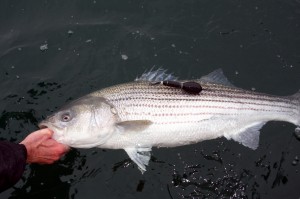 Pop-up satellite tags (PSATs) are designed to be attached to a fish, record data, release from the fish after a programmed amount of time, and then transmit their data up to a satellite. They have allowed us to learn all kinds of things which just were not possible before this technology was developed. These tags are big and expensive and their use has been limited to the study of large pelagic fish. They are still expensive but a new generation of these tags are much smaller opening up their use for the study of larger coastal fish like drum, cobia, and trophy striped bass.
Dr. John Graves, from the Virginia Institute of Marine Science, recently conducted a pilot study with this new generation of tags to take a look at this trophy eel fishery. Ten large striped bass were caught near the mouth of the Chesapeake Bay using live eels as bait. Half were caught with J-hooks and the other half with circle hooks. The fish were caught under normal recreational fishing conditions. The fish were boated with a landing net, hook removed, held up for photographs, tag placed, and released. The tags were scheduled to release from the fish after 30 days.
Results
The five fish caught on circle hooks were all hooked externally, corner of the jaw or in the top lip. Two of the J-hook fish were hooked deep, down in the gullet. The other three were hooked externally. Eight of the ten tags reported. Two tags are AWOL. We do not know what happened with those two. The tags float to the surface regardless of whether the fish survives or not. It could be a problem with the tag or another striped bass may have though it looked like an eel and ate it. The eight reporting tags included four from each hook type and included both of the deep, J-hooked fish. All eight fish survived the catch-and-release experience. While the J-hooks did have a greater chance of hooking deeply, it did not matter as to survivability in this small study. The 100% survival of the reporting fish indicates that Virginia's trophy striped bass fishery is a sustainable fishery. Barring further studies, there does not appear to be any reason to change current regulations.
Cool Stuff
Each of the fish spent some time down below 65 feet of water. None of the fish went as far as 100 feet deep. Most of their time was spent between 16 and 32 feet in the water column which may be where you want to keep some of your baits at. These fish mostly stayed in water from 44.6 to 46.4 degrees F.  In the 30 days, the fish traveled from 12.6 to 59.1 nautical miles from where they were originally captured. One group of three fish, tagged the same day, at the same location, near the mouth of the Chesapeake Bay, went in three different directions. One went up into the bay, one went north up the coast and the third went south, down the coast. Presumably, heading toward their spawning grounds giving the possibility that fish from the Hudson, Chesapeake, and Roanoke stocks were all schooled and feeding together. Future studies with larger numbers will give us more details about the lives of these most important fish.
Sidebars:
Virginia's State Record Striped Bass weighed in at 73 pounds. It was caught January 23, 2008 by Frederick Barnes.
The Virginia Saltwater Fishing Tournament awards trophy fish citations for striped bass weighing at least 40 pounds or for released fish measuring at least 44 inches. An annual Species Award is given to the angler weighing in the heaviest striped bass of the year.
The author has won a Species Award for striped bass two times.