Spot On
Ken Neill
Published in Chesapeake Angler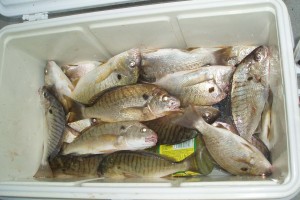 We love our billfish and tuna. Inshore, it is flounder, drum, cobia and striped bass that receive all of the love. These are the glamour fish that most of the magazine articles are written about. Each fall, it is one of our smallest fish the steals the show.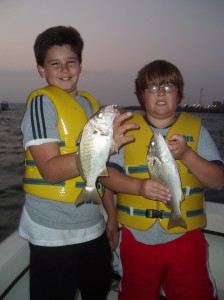 Norfolk spot are available all summer long but the fishing really gets good in September and October. This is the time that you will find large schools of "large" spot feeding aggressively. They are a lot of fun to catch and are a very tasty pan fish. A "large" spot is about a pound. The rare monster will break two pounds. Half-pound spot are common in the fall and a cooler full makes for a great fish fry.
You do not need a large boat to fish for spot. Actually, you do not need a boat at all. All of the area fishing piers experience good fall spot runs. Some of the best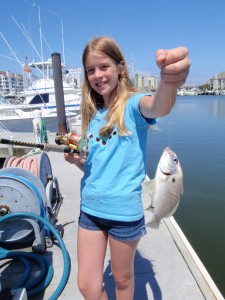 spot fishing will occur in protected waters where smaller boats make good fishing platforms. The Rappahannock River, Gwynn's Island, the York River and the stretch from the mouth of the Poquoson River to Back River Reef are all good spot locations. The Hampton Roads Harbor area from the James River Bridge to the Hampton Roads Bridge Tunnel is big spot central. There are big spot catches inside of Lynnhaven and Rudee Inlets each fall. Historically, the second island of the Chesapeake Bay Bridge Tunnel has been a good late season spot spot.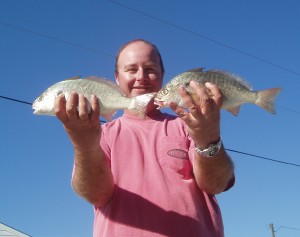 Tackle requirements are minimal. When I was a kid, we just used a hand line to catch spot. I don't know if anyone still uses hand lines anymore. Any rod and reel combination will work. Lighter gear lets you enjoy the fight more. Terminal tackle is typically a store-bought high-low rig, snelled number 1 hooks, and a sinker just heavy enough to hold bottom. You can tie your own rigs and they will work just fine.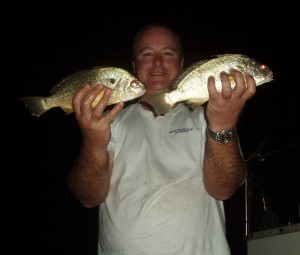 Bait consists of bloodworms. Spot typically are not very picky. They will eat earthworms from your garden. They will eat squid. There are times inside of the inlets when they will really focus on shrimp. The artificial bloodworm imitators work well on spot most of the time. Some old timers will collect periwinkles from the marsh grass, crack them open with a hammer, and use that for spot bait. Spot will eat cut spot. When it is tournament time, we will be using bloodworms. Yes, there are spot tournaments.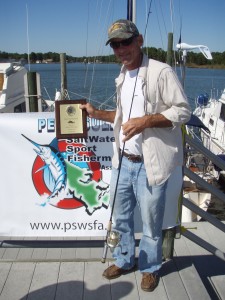 The Peninsula Salt Water Sport Fisherman's Association holds a spot tournament the first weekend of October each year. Why? Well, they are fun to catch. Anybody from the very young to the very old can catch them. This makes it a great time to put some of the serious fishing aside and get the whole family out there to enjoy the action. It is also a great excuse to have a big old fish fry at the end of the tournament. Fall temperatures are more moderate, no more 100 degree days, so it is just a great time to get outside.
Spot fishing is easy but there are some tricks that can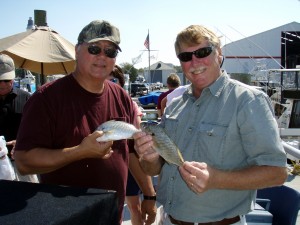 make you more productive. Use your fish finder to help locate concentrated schools of fish. Often you will find them stacked up on channel edges. The largest spot tend to be more structure oriented. Target larger fish around the bridges, pier pilings, and artificial reefs. Spot will bite better when there is some current moving. Often, there will be a lull in the bite around slack tide, you may need to wait until the current picks up a bit.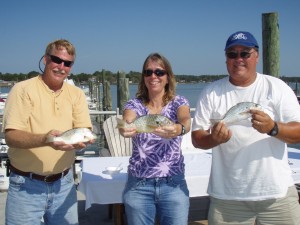 When the current is moving very fast, you can find the fish in the current breaks provided by the bridges and other structures. Spot will bite day and night. A nighttime spot trip can let you fish without the big crowds. There are times when anchoring in a productive location is the best way to catch large numbers of spot. Other times, drifting will be more productive.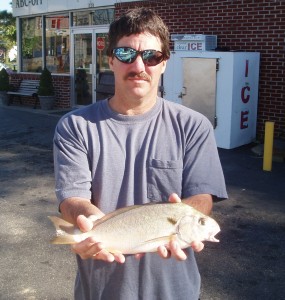 Now is the time to round up the family and go out and have a spot of fun!