Virginia's Bountiful Bottom
Ken Neill, III
published in the International Angler
It is exciting to discover a new fishery. Anglers travel to remote, exotic locations to experience fish populations which have yet to be affected by industrialized fishing pressure. It is unlikely to find a new fishery in a heavily populated area with well developed commercial and recreational fishing fleets. Yet this is exactly what has happened off of the coast of Virginia.
Offshore bottom fishing in this area has always consisted of black sea bass associated with the many wrecks which can be found along the ocean bottom. The tragedy of World War II provided this area with a lot of fish habitat. This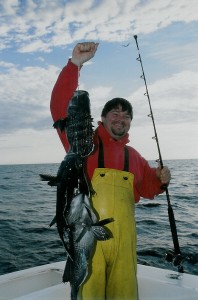 is a very good fishery and the IGFA All-Tackle World Record, 10 pound 4 ounce, black sea bass was caught in these waters by Allan Paschall in 2000.
There is a well developed offshore bottom fishery in the waters off of North Carolina on south along the east coast of the United States. Grouper, snapper and blueline tilefish are common catches. The canyons off of the coasts of states to the north are the home of a bottom fishery for golden tilefish. Virginia is stuck in the middle of these fisheries. A few anglers began to explore the bottom off of Virginia to discover if some fish other than sea bass could be found. What they found was an amazing, untouched fishery.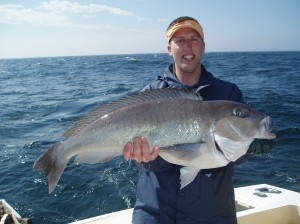 The first species encountered was the blueline tilefish. They were found in tremendous number and size. The average size of these fish are much larger than those caught in more southern waters. World records were set and broken again at an amazing rate. Record-sized fish were being brought in on a weekly bases. These anglers had found a guaranteed fishery. You could catch all the fish that you wanted on each trip and any given trip had a very real chance of producing a world record catch.
Lewis Gillingham is the Director of the Virginia Saltwater Fishing Tournament. This is a program which, among other things, awards "Citation" plaques for catches which meet minimum, trophy standards and it also maintains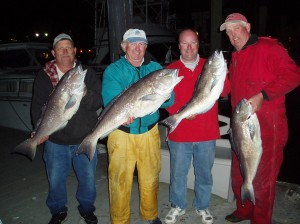 Virginia's saltwater fish records. This new fishery has kept him very busy. " A few anglers became enamored with deep-dropping off the Virginia Coast and caught the attention of the whole east coast with a slew of IGFA All-Tackle records for blueline tilefish. As some anglers fished in even deeper water they caught several species of fish formally unknown to Virginia's recreational angling community, such as wreckfish, golden tilefish and several species of grouper. Recognizing the growing interest in this deepwater fishery, for the 2007 season the Virginia Saltwater Fishing Tournament added blueline tilefish, golden tilefish and snowy grouper to its list of species eligible for State record recognition but set lofty minimum qualifying weights. Additionally, blueline tilefish was added to the Tournament's list of species eligible for Citation recognition with a 10-pound minimum qualifying weight (which was the world record weight for a number of years). In 2007, State records were set and broken for all three species (the blueline tilefish and snowy grouper also qualified as IGFA records), and anglers registered 164 blueline tilefish Citations. Already this year (2008), blueline tilefish in excess of 18 pounds and a pending IGFA All-Tackle world record yellowedge grouper have been landed."
The current world record blueline tilefish stands at 19 pounds 14 ounces. This fish was caught by Rick Wineman. Fish heavier than 20 pounds have been weighed in but these fish were not caught under IGFA rules. In the world of fisheries management, these fish were not supposed to be off of Virginia so they were totally unregulated in this area. More and more anglers joined this fishery and though there has not been a sign of a decrease in numbers or size of these fish, there were some concerns raised about how many full fish boxes could be brought back to the dock before the health of this fish population is affected.
Other species have been discovered and more records have been set. The initial golden tilefish state record was set by Jeff Dail while fishing on the Healthy Grin. His 44-pound fish has since been replaced by a 53.5 pound fish caught by Charles Maresh while fishing with Capt. Joe DelCampo. The grouper-like wreckfish, Polyprion americanus, is being caught
in large numbers. Blackbelly rosefish were found and Robert Manus set the current world record for this species while fishing on the Healthy Grin. All of these record-sized fish generated a lot of interest in the fishing and scientific communities. The private vessel Healthy Grin has been at the center of the development of this new fishery and its crew is responsible for ten record catches of offshore bottom fish during the past two years. While the tilefish, wreckfish, and rosefish generated a lot of interest, when this small group of dedicated anglers found grouper, the excitement reached new levels. Of particular interest, were the snowy grouper they were bringing back to the dock. They were much larger than the existing world record. Some trips would result in several world record-sized fish where only the largest of the catch was registered. To date, the Healthy Grin has set the IGFA All-Tackle World Record for snowy grouper five times in the past two years. The latest is a 66-pound fish caught by Chris Boyce.
The snowy grouper is a highly sought after recreational and commercial fish. The history of this fish has been one of discovery, heavy exploitation, a depressed population which does not recover. Anglers were excited about the discovery of this untouched population. Scientists were also. It has been decades since they have had a healthy population to study. There was also a lot of interest in protecting what some thought might be the last healthy breeding population of these fish. Again, this was a fish outside of its management range.
These fish are being caught in federal waters but it will take years before any regulations are enacted to protect these fish. Virginia was asked to do something to protect this fantastic fishery in the meantime. Joe Grist is a Senior Manager at the Virginia Marine Resource Commission (VMRC). "A continuous concern with grouper and tilefish species, such as blueline tilefish and snowy grouper, is the difficulty in sustaining a stock, if a large and increasing directed effort occurs on a slow growing, slow maturing species. Any action that could lead to an increase in exploitation on a species without stock abundance information is a concern for fisheries managers when considering sustainability. Regional management of stock abundance, and their management histories, must be considered to ensure stocks of these species off of our coast are not at risk for growth and recruitment overfishing, as has been reported in South Atlantic waters. Management measures along the South Atlantic coast (North Carolina through Florida), for the past few decades, have been reactive. Now, those states are facing ever-tightening restrictions to their snapper-grouper fishery complex as a whole. Case studies have documented the ease with which localized populations can be fished out. Recovery is slow, if the stocks recover at all, over time. VMRC staff has surmised that the fishery that has developed off of the Virginia coast, in recent years, is on a previously unexploited and virtually virgin stock of tilefish and groupers. The majority of the tilefish and grouper complex is slow-growing and slow-maturing, and their habitat range is not
expansive. Once located, it is easy to over-exploit these stocks in a short amount of time. Based on a combination of scientific, management and anecdotal information collected by staff on current catches of tilefish and grouper from the waters off of Virginia's coast, and conservation based recommendations made to staff by members of both the recreational and commercial fisheries, the Marine Resources Commission approved a proactive and conservative approach to this fishery, that allowed the fishery to continue, while valuable and much needed information on life-history and stock structure of population off of the Virginia coast is collected. The Commission's actions were both precautionary and consistent with the goal of ensuring sustainable fisheries."
Current state regulations are 7 tilefish and 1 grouper per person. The wreckfish is included in the grouper limit. Very strict commercial trip limits were also enacted to allow for some bycatch but to discourage the development of a directed fishery. Virginia anglers have discovered a world-class fishery and have taken steps to insure that it stays that way.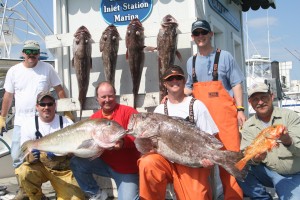 For more information on the Virginia Marine Resource Commission and the Virginia Saltwater Fishing Tournament visit: www.mrc.virginia.gov 
Ageing Results of Virginia Tilefish, Grouper and Wreckfish: http://mrc.virginia.gov/rec_assessment/2007_Tilefish_Grouper.pdf
Charter Captains for this fishery:
Capt. Joe DelCampo (757) 639-8363 
Capt. David Wright (757) 430-1305 
Capt. Jim Brincefield (252) 336-4296