Virginia Tautog
Ken Neill
Published in Chesapeake Angler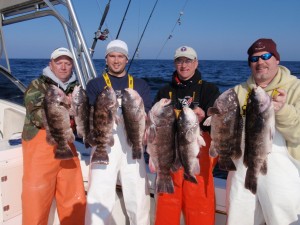 Tautog are a fish of the northeast where they have a very dedicated "blackfish" fishery. Virginia is not thought of as a tautog fishing destination but maybe it should be. Virginia has tautog and we grow them big here in the Commonwealth. Where ever you find them, a 10-pound tog is a big tog. You are going to have to do much better than that if you want to raise some eyebrows in Virginia. Throughout history, there have been three tautog caught that have broken the 24-pound mark. Two of those monster fish came from Virginia.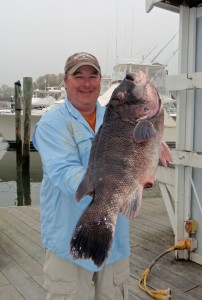 The first was a 24-pound tog caught by Greg Bell in 1987 while fishing off of Wachapreague. Greg's fish stood as the IGFA All-Tackle World Record until 1998 when Anthony Monica caught a 25-pound tautog off of New Jersey. In 2012, I caught a tautog that was in-between these two fish, weighing 24.5 pounds at the dock. This fish was caught off of Virginia Beach. By the time the fish was officially weighed on the digital scale at the VSWFT office and rounded down to the nearest ounce, the official weight of the state-record tautog is 24 pounds 3 ounces.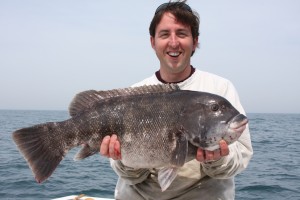 There have been numerous twenty-plus pound tautog caught out of Virginia. In 2013 there were two registered over the 20-pound mark including a 21 pound 6 ounce fish caught by Jordan Nestor. Jordan's fish is currently the IGFA Small-Fry World Record. As this is being written, 2014 has just begun. There have not been any over 20-pound tog caught yet but there already has been a new potential record caught. Jon Kurowski caught a 15 pound 7 ounce tautog that he is registering for the IGFA Junior World Record.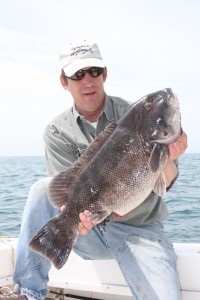 Virginia appears to have a healthy tautog fishery and they do appear to be our tautog. Tagging studies to our north do show tautog movement, particularly a seasonal movement during spawning time. The Virginia Game Fish Tagging Program has had literally thousands of tautog tagged and recaptured. Virginia tautog have shown no signs of an east-west seasonal migration or any type of north-south migration. In addition to the large numbers of regular tags a radio-transmitter tag study was done by Jon Lucy at VIMS. They followed a population of tautog inside the bay from the fall, through the winter, and into the spring and again from the spring through the summer and into the fall (tags had a 6-month battery life). The fish stayed inside the bay all year, just moving around on their home structure. When an angler tries the CBBT early in the season without success and says that the tautog have not arrive yet, he is wrong. The togs are there all year long. With few exceptions (where the rare tog will move from one wreck to another), Virginia's tagged tautog are recaptured on the same structure again and again, no matter how long they are at large. We tagged a tag on the Consol wreck in 2005. Seven years later, we recaptured that fish…on the Consol. It had grown from 16.75 inches to 24 inches long. It is still there, we released it. We did have one move. It was a tautog we tagged on the Westmorland in 2004. After 8 years at large, it was recaptured on the very close, Cape Henry Wreck. Virginia tautog just do not move.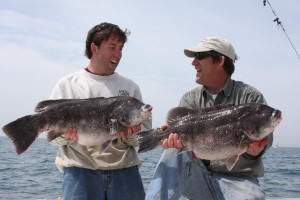 Despite this evidence that Virginia tautog are Virginia tautog, tautog are managed by the ASMFC as a single coastal migratory stock. There is very limited science on the health of the tautog population but it is perceived to be depressed in the northeast where they experience heavier fishing pressure. Due to this, Virginia's anglers face seemingly ever-tightening regulations with large minimum sizes, small bag limits and long closed seasons. Right now, we are allowed to keep 3 tautog  at least 16 inches long with a closed season from May 1 through September 19. Check the regulations before you go. The silver lining with these very tight regulations is that there are a lot of tautog out there.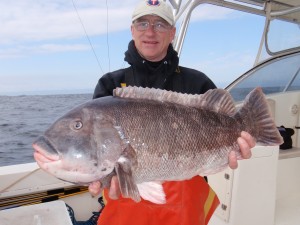 There has to be some movement of tog. New structures develop resident tog populations and there is a difference in our tog fisheries inside the bay and out on the ocean wrecks. Many big tautog, over 10 pounds, are caught both inside the Chesapeake Bay and out in the ocean each year but the largest tautog are caught out on the ocean wrecks. There may be a general offshore movement of the largest tog or it just may be more fishing pressure and/or a shorter growing season inside the bay. There are some big togs in the bay though. The unofficial bay record tautog is an 18-pound fish caught by Craig Paige at the CBBT.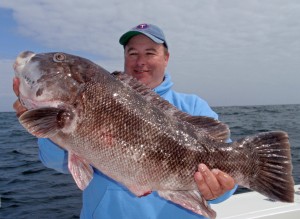 If we do have a geographically distinct tautog stock, separate from the tautog population up north, it is possible that will show in differences in the fish's DNA. A new study at VIMS is looking at just that. They will be comparing DNA from Chesapeake Bay tog, our ocean tog, and tautog from up north to see if there are genetically distinct stocks. If there are, that will argue for a change in the way that these fish are managed.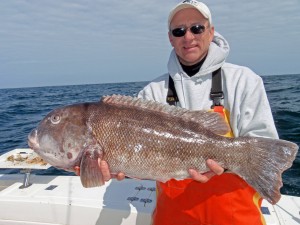 Whatever the science, we have big tautog in Virginia, record-sized tautog. Get out there and catch a big one. It is time to bring that All-Tackle World Record back to Virginia…where it belongs.