Virginia Tarpon
Ken Neill
published in Angler Magazine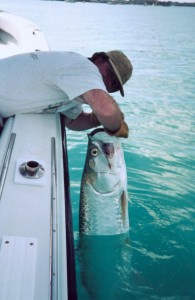 If you want to experience some of the best marlin fishing on the planet, come to Virginia. World-class red drum, black drum, cobia, striped bass, flounder, or even speckled trout on your mind; come to Virginia. If you want to catch a tarpon, go somewhere else. Florida would be a good choice or maybe Atlantic Costa Rica. Virginia is the northern end of the range of fishable populations of tarpon. Each summer, a depraved group of anglers torture themselves by fishing for them.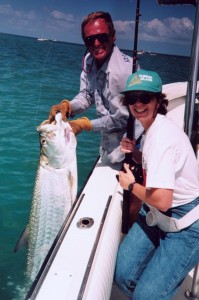 The tarpon that make it to Virginia are on the large size. The state record is a 130 pound fish caught by Barry Truitt, in 1975, off of Oyster. Larger fish are caught but pretty much every fish is released. Truitt is Virginia's Mr. Tarpon, consistently catching tarpon in Virginia for decades.
Tarpon catches are rare enough that any tarpon caught in Virginia is considered a trophy catch. Released tarpon are eligible for a Virginia trophy-fish citation plaque. There is a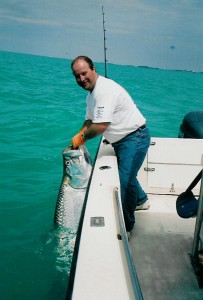 minimum length requirement of 36 inches. This is like the minimum trophy lengths for sharks and bluefin tuna in that the fish does not have to be brought into the boat for an accurate measurement, just determine that the fish is over the minimum, get your best estimate in the water, and release the fish. All of Virginia's tarpon will be over the minimum. The length requirement is to keep people from entering herring or the occasional ladyfish that look like small tarpon.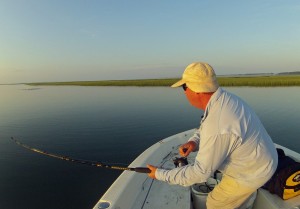 This fishery is mostly centered in the inlets and behind the barrier islands of Virginia's Eastern Shore. They can show up anywhere. Every now and then, some cobia fisherman chumming on Latimer Shoal or an angler targeting king mackerel off of Sandbridge will get a surprise visit from the Silver King.
Years ago, a fishery developed in the ocean waters along the Eastern Shore. There were very thick schools of menhaden that the tarpon were following around and the anglers followed the tarpon. It was fantastic tarpon fishing for about two weeks and then the schools broke up and it was over. Capt. Jorj Head did some detective work this summer. He was not interested in tarpon but in cobia. His thought was that the cobia would be where the menhaden were so he went to the experts. He tracked down a spotter plane pilot for the menhaden fleet. He said the guy was very nice and told him where they were finding the big concentrations of bunker, on the seaside of the Eastern Shore and it was as good as they had seen it. When asked about cobia sightings, he said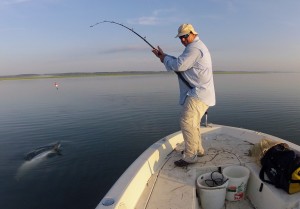 that he really could not pick them out from up there but the boat captains might. He put Jorj in contact with the captains who Jorj said were again, very nice and helpful. The captains told him that they really had not been seeing cobia following the bunker but what they were seeing were tarpon, lots of tarpon.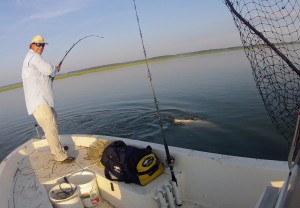 One of my favorite Virginia tarpon stories is about the current Director of the Virginia Salt Water Fishing Tournament, Lewis Gillingham. Long before he took over the citation program, Lewis was "offshore" fishing in his 17-foot Boston Whaler. He was trolling strip baits and such in the area from the 4A Buoy to the SE Lumps and he was having a good day. He had caught a wahoo, a cobia, and a number of dolphin. He had another good bite with a fish that jumped once but he was looking into the sun and could not really make it out. The fish never jumped again but fought really hard. He thought that he had a big dolphin. When he finally got it to the boat, it was a big tarpon. Well, nobody was going to believe this. He was fishing alone so he did not have a witness. He did not want to kill the fish just to bring it in and show it off and he wanted to earn a release citation but could not without a witness (this was before we instituted the photograph with a ruler rule for solo anglers). So he did what any self-respecting madman would do. He pulled out the drain plug and let his boat fill with water, turning his boat into one big livewell. He made it back to Rudee Inlet alive (both Lewis and the fish) where one of the big tournament parties was going on. He had his witnesses. Now with some help, they towed that fish around Rudee Inlet to revive it and then released it inside the inlet.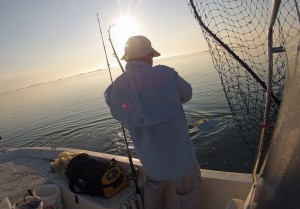 When I caught the tarpon bug, I was smart and went to Florida. My wife and I had a blast catching tarpon inside Key West Harbor. It was super easy fishing and the tarpon lived up to their reputation. Not being that smart, I decided I wanted to catch one in Virginia. Really, how hard could it be? I tracked down Capt. Blake Hayden, righttidecharters.com , and talked him into taking me tarpon fishing. Blake is well known for catching monster speckled trout but he grew up tarpon fishing on the Eastern Shore.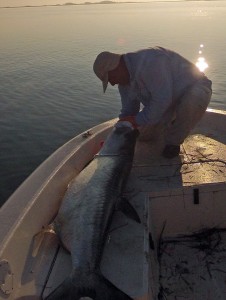 Charles Southall and I were waiting to meet Blake at the CBBT when Carl Herring showed up. He was meeting his crew there to head over to the Eastern Shore. When he heard what we were after, he wished us luck and told one of his tarpon stories. One of his buddies went to Florida to catch his first tarpon and got skunked. When he got back, Carl took him to try it on the Eastern Shore. He said that they really did not know what they were doing but they anchored up and put out some live spot. They hooked 4 tarpon. Each landed one and jumped one off. That sounded great but then he went on to tell stories about all of the really good fishermen who had tried for decades but had never caught a Virginia tarpon.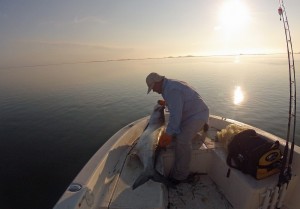 Early, that first morning fishing with Blake, I hooked up to something that came to the boat easily. I had the wind on leader on the reel but with the murky water; we could not see the fish. I thought it was a small shark. It swam past the boat and started pulling drag. It was pulling too hard to be a little shark so I thought it was a ray. It made a quick turn and swam right back to the boat very fast, leader on the reel again, it was that close, still thinking ray, just crazy, until this huge silver thing comes up out of the water right by the boat, shaking its head. The hook comes flying out and that is the last we see of that 200-pound class tarpon. Wow, OK, I did not need to catch one that large anyway. Later that same day, Charles hooks up with another large tarpon, over 100 pounds. This one jumps back towards the boat, landing on the main fishing line, breaking it. We did not catch one but with action like that on our first try, catching a Virginia tarpon was going to be easy.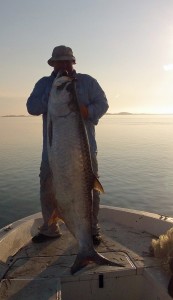 It only took me 3 years to do it. I tried everything. One day, I broke down over there. I talked to Tow Boat US and they were going to come and get me. I asked them to wait and come get me the next day as I wanted to try night fishing for them. I had my swordfish light, flats of butterfish and buckets of fresh bunker. I spent all night chunking for tarpon, catching sharks, and swatting bugs. I was a pretty sight when Capt. James showed up the next day to tow me across the bay.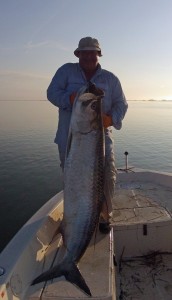 I kept going back. When it finally happened, it was easy. I ran across the bay to the Eastern Shore, put out my baits and was hooked up to a tarpon within minutes. The fish came close to spooling me so I came off of the anchor and it towed the boat around for a while. When I finally got it to the boat, I had the same issue as Lewis, no witness. Instead of filling my boat with water, I was able to slide it into the boat and photograph it with a tape measure. I held it up the best I could for a single photograph with a self-timer on the camera and got the fish back in the water to revive it. It did not want much of that and shook me off after a few seconds and swam away. I had a new toy, a Go Pro camera, taking photos every 2 seconds. That actually worked out pretty well. I was home in time for breakfast.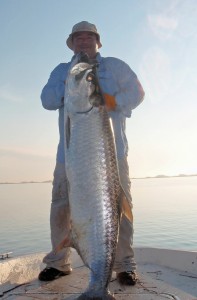 Mission accomplished, now I never have go tarpon fishing again. I'll be right back at it next summer. One fish every 3 years, I had better get started.