January Bluefin
Ken Neill
Published in Chesapeake Angler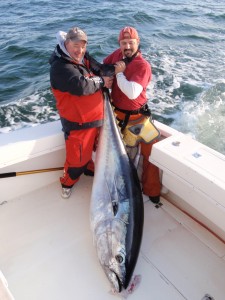 Our fishing options become more limited during the month of January. The Chesapeake Bay striped bass season is closed. We can still catch and release fish and during milder winters, that action can be good. We can still chase the rockfish in the narrow stretch of coastal water where the season remains open. That fishery can be very good…or not if the fish are hanging offshore in closed waters. This is the primetime to hit some of the deep-water wrecks for jumbo sea bass but current regulations have that fishery closed. There is always the good old chub for those with the patience to fish for tautog over the winter months. There are probably some bluefish out there somewhere. You can run offshore and do some bottom fishing if you do not mind cranking up twenty spiny dogfish for each tilefish that you happen to catch.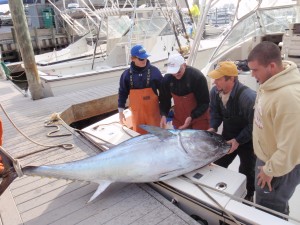 There is the bluefin tuna but those things are very big and very strong. You are likely to burn up your reels and break lines. Even if you are in shape, your body will hurt for days after fighting these beasts. But if you insist, there are bluefin tuna out there to do battle with.
Around Thanksgiving, we can start looking for the arrival of big bluefin tuna in the mid-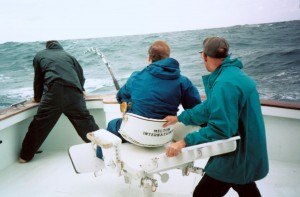 Atlantic. By late December, they are out there somewhere and January is probably the prime month to fish for them. The wintertime hot fisheries seem to shift around a bit. Hatteras was the place to be then the best bite seemed to be at Cape Lookout. Virginia Beach is red hot some years and Oregon Inlet is right in the middle of all this. Sometimes, there is good bluefin tuna action out of all of the area inlets. When the bite is on, it is worth making the trip to wherever the hot bite is. These fish are impressive.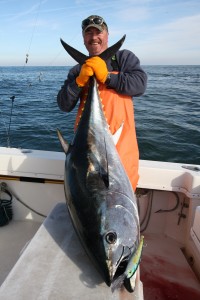 The bluefin tuna is the largest of the tunas, it is wide ranging, and it is very tolerant of cold water temperatures. They can be found out past the 100 fathom curve right on into the beach. It is not uncommon for anglers trolling along the coast for rockfish, in 45 degree water, to have their striped bass tackle destroyed by a bluefin tuna. It is such a common occurrence, that a whole new fishery has developed along Virginia's oceanfront with anglers trolling rockfish lures on heavy leaders and 80 wide reels. Local lure makers have beefed up their hooks and through-wired their lures. There has been more than one striped bass plug broken in half by a big bluefin tuna. Trolling rockfish lures for big bluefin tuna is mostly a Virginia Beach thing. There have probably been more Virginia winter bluefin caught on tandem parachute jigs as anything. Others will troll a heavy mojo jig off of a 3-way swivel and have some other bait as a trailer. This can be something like a swimming shad type lure or a more typical bluefin tuna bait: a horse ballyhoo. The ballyhoo can be rigged naked or with a lure like an Ilander. One local sharpie saves small bluefish over the summer, just to rig as a trailer bait, for Virginia's winter bluefin. He thinks the bluefish more closely resembles the bunker that the bluefin are feeding on and they hold up and troll well. The tuna seem to like them.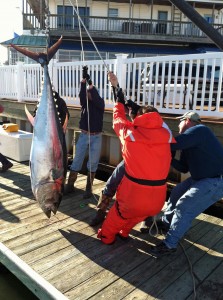 A more common bluefin tuna technique is to troll large ballyhoo/Ilander or similar lure combinations. Troll baits off of each rigger and troll one or two down deep off of downriggers. You do not need too much stuff out there as you do not have much time to clear lines when a big bluefin tuna is checking out. It does not take long for one to dump and entire 80 when it wants to. You will have more time if you are using 130s. Other times, it seems to take them a little time to even know that it is hooked. When they do that, you have a little more time to get the other lines out of the way, unless they get crushed also. A multiple hook-up with fish weighing hundreds of pounds each is a very exciting experience.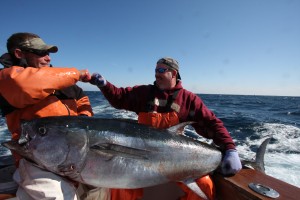 Trolling large baits with heavy tackle is an effective way to target wintertime tuna wherever they are. Another technique is chunking. That was the technique that made Hatteras the famous wintertime bluefin tuna spot some years ago. The fishing was crazy with massive fish right behind the boat, competing with each other for your bait. We have had some success chunking wintertime tuna off of Virginia when we have found them more offshore like at the Fingers or on the Cigar. More inshore, like from the Triangle Wrecks/Fish Hook on into the beach, we have watched them just ignore our chunks and swim right past the boat.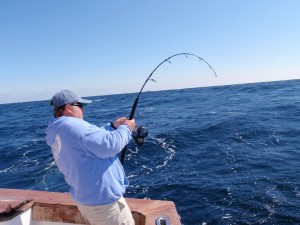 While heavy tackle is normally used for the big bluefin, you can land smaller, 70-100 pound class, bluefin while using striped bass gear. It happens every year that a bluefin is landed by an angler pulling an umbrella rig or something. Now anglers are out there targeting larger bluefin tuna with much lighter tackle than the typical gear used while trolling for them. Braided lines, small reels with heavy drags, and the blade/flutter type jigs are allowing fishermen to successfully battle bluefin on much lighter tackle than would ever have been thought possible. Using spinning rods to cast topwater poppers has got to be the most exciting way fish for them but you had better hope that you do not hook into one that is too big.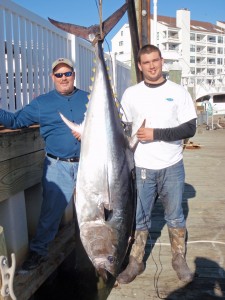 If you want to get your blood flowing this winter, go fight a bluefin tuna. You will warm up very quickly.