Ken Neill, III
published in Chesapeake Angler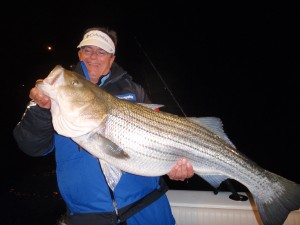 About a year earlier, George Poveromo told me that he would like to come back to Virginia to film another episode of his "World of Saltwater Fishing" television series. George is really a great guy and a lot of fun to be around. I always enjoy fishing with him and we started to talk about what we should fish for. I really wanted to fish for marlin. I described our fantastic drum fisheries and the run of big bluefish each fall. Basically, I went through all of the amazing fishing we have here in Virginia other than striped bass. Usually, that fishery has been a given but the past winter was not good. I only had two good days and both of them were by luck. Of course, George asked about fishing for striped bass…large striped bass. I said yes, that is typically an awesome fishery in Virginia except for the past winter and I was not sure what the next winter would hold. George told me that his largest striped bass was 28 pounds.  Somehow, I told him to bring his production crew and we would catch rockfish a lot larger than that.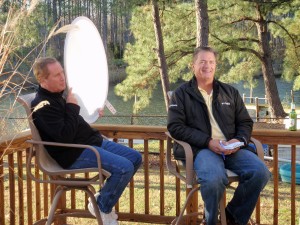 The production schedule required the trip to be as early as possible. I asked him to push it back as late as possible. Partly as to my best guess, a year in advance, as to when the large striped bass would be here. It also had to do with, "it takes a village". There is a lot of effort into producing one of these shows. Many of my fishing buddies who have been a part of these productions in the past are school teachers. I knew what kind of help we would need and I hoped that they would be on Christmas break. We settled on the dates of December 13-15. This was in the middle of the week to avoid the weekend crowds and it was about as late in the year as they could go and get the show produced in time for it to air.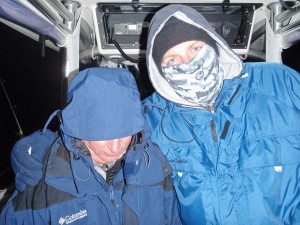 The first thing I did was to ask my wife, Tricia, when our kids Christmas break would start. She looked that up and it wasn't until later. That just ruled out all my York and Poquoson school teacher buddies. I called the Burnley brothers and no, the Virginia Beach schools would not be out yet either. The past two shows George did here were in the summertime, so all of these guys were available. While chasing Virginia Tarpon with Capt. Blake Hayden, I told him that George and the Marc VI were coming back and that I might have a problem getting one of my regular guys to run the Healthy Grin as the camera boat. Blake said that if all of my crew were working, he would do it. Blake is one of Poveromo's regional experts from the national seminar series. Blake also is probably the top trophy speckled trout guide in the state and this would be during Blake's busiest time of the year. This was a tremendously nice offer on Blake's part but that is just how he is. I told him that I would take him up on it if I needed to but I would check to see if any of my crew could take off work during that time. I spoke to Charles Southall who is the person that got the Marc VI in and out the water during George's previous two shows in Virginia. Charles said that with this much advance notice, he could arrange for our nation's submarine program to survive without him for a few days and he would run the Healthy Grin. Now, if we could get another guy or two to help out…We had a lot more than that. Charles said that we have so many people willing to help that there will be no room for the camera crew. It is great to have good friends! Charles ended up asking Wes Blow and Steve Martin to help him. Hunter Southall also was there whenever he was not in school. Throughout, we received offers of help from charter captains, marinas, tackle shops, and individual anglers. It was amazing.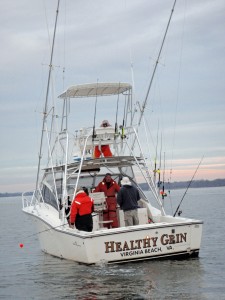 Everything was set up except for the fish. The week before their arrival, with water temperatures in the mid-50s, my cousin, Phillip Neill and I went out to pre-fish for the show. We fished from early Saturday morning, all through the night, and all through Sunday. We had a total of two bites and caught both. Nice 45-inch fish but it was not good. Both fish were caught 2-3 o'clock in the morning. They were coming to do a daytime show. George asked me what our options were. I told him that it was going to be cooler the following week and the bite should pick up but that the few large fish being caught were at night at the CBBT. Other than a night show, he could switch to jumbo sea bass and we would have no problem catching them. He said that he would have the production crew pack their lights for nighttime filming and that they were really going to love me.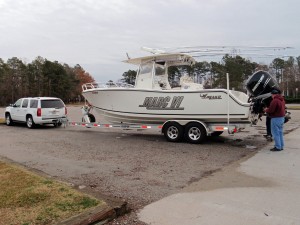 The next week, the Marc VI arrived at Rudee's Inlet Station Marin. Charles, Hunter, and I went and launched that big Mako with Charles' Tahoe. Everything went smoothly, we got it in the slip at Inlet Station, and Hunter got George's boat washed up. We were planning on going pre-fishing again but it was blowing so we put that off until the next day, Sunday. We started dark and early and Charles caught a nice fish at the high rise at first light. We fished all day without another fish. The pressure was building now. I took Charles in and I went back out to fish all night and into Monday prior to George's arrival that afternoon. When I got back out there, Capt. Rick Wineman called me and said they had three big fish. They were where Phillip and I had caught our two fish the week before. I anchored up near where they were leaving from. The fish were there. I caught big fish one after another until they just wore me out. The one I kept weighed in at 44 pounds. I was tired and knew what I needed to know so I went in to get a little sleep. I did send out a message to my crew and copied it to George giving the report and mentioned that it sure would be nice if the production crew could get their stuff together and go out fishing the night of their arrival. That just was not going to happen. On my way back to the boat Monday afternoon, I got a call from George. Their plane had just landed and he had read my message. He canceled a dinner meeting with Virginia Beach officials, and they would be ready to go as soon as they checked into their hotel. That was a surprise. I called Charles, said get the guys and I turned my truck around to go get George's tackle and the special clothes I had to wear for the cameras.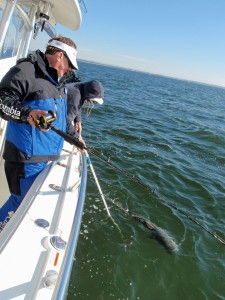 It was show time but would the fish cooperate? We were not anchored up too long when we got our first bite. We lost that fish and the next one. Oh come on! Finally, George gets a fish to stay on and we catch our first fish for the show. It was about ten pounds heavier than his previous best striped bass. After our third fish, George said we had enough for a show even if we did not fish the rest of the time they were here. The pressure was gone. We had their show before the first scheduled fishing day. From then on it was just fun. I ended up catching the largest fish of the night and of the trip. It was a 50-pound class fish that was released for the cameras. We did not get a photo of it so I am anxious to get a look at it again when the show airs. George asked if he would get a lot of grief if he kept a fish to eat. I told him that would be fine and nobody should give him a hard time. He kept one fish from the trip and we released the rest.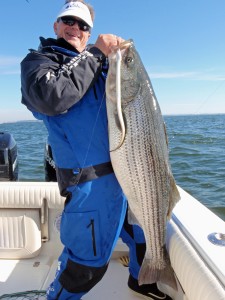 As they had the show and it was supposed to blow a bit the next day, they took that day off and enjoyed Virginia Beach. My guys went fishing and we did not catch a fish. Wow, sure glad that did not happen for the TV cameras. We went back out the next day in the Marc VI with the cameras. This time we were doing what the show was supposed to be about in the first place, daytime eeling for trophy striped bass. Again the fish cooperated for the cameras and George bumped his personal best striped bass up to the 40-pound class. The production team was ecstatic and started to plan how they would show both the day and night trophy striped bass fisheries. After dark, we went back to the CBBT mostly to film the structure, light lines, all the boats and so on…mood footage.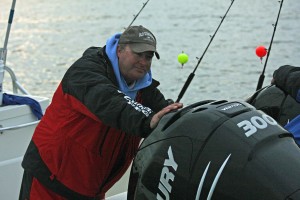 After they had gotten all that and had everything they could use and then some, we still stayed out there and fished some more. If you just see George on TV, you may think he is just a TV personality that puts on a show. In real life, he is one of us. He is a hardcore angler. He pulls his own anchor, cleans his own fish and boat after a trip and he fishes hard. I was more than ready to go in after a long day of fishing. George was having a blast. We did not quit fishing until the camera guys started shivering.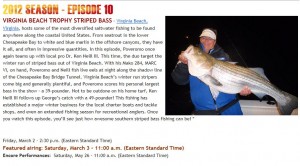 George had a great day and an evening of catching his largest rockfish ever. He is already planning his next trip back to Virginia.
The show will air on NBC Sports: March 2, 2:30 pm; March 3, 11:00 am; May 26, 11:00 am.