Virginia's Record Snowfall
Ken Neill, III
published in Chesapeake Angler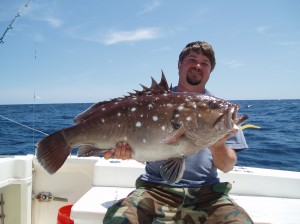 The first one we caught was by accident as was the second. We then went out and tried to catch one and we caught two. The problem we had was that both of these fish were much larger than the world record. We thought that they were snowy grouper but what were the chances that on our first attempt, we would crush the world record, twice? A friend at the IGFA said that we had likely caught small Warsaw grouper. They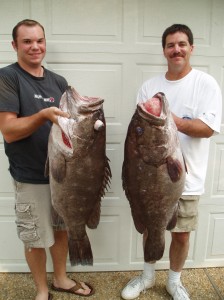 look a lot like snowy grouper but get much larger. We took the fish to the Virginia Institute of Marine Science where they were not sure what we had caught but they knew how to find out. These fish were indeed snowy grouper and Jeff Dail and Jason Ferguson each earned an IGFA All-Tackle World Record for the fish that they caught that day. Jason's was a little larger so Jeff's record was retired and Jason held the standing world record with his 37 pound 9 ounce fish. He would not hold it for long.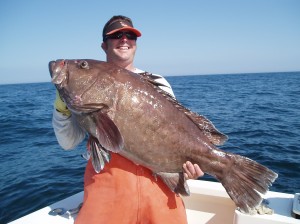 Those fish beat the existing world record by about ten pounds. We thought that they were huge. We were wrong. On a subsequent trip, we had even better luck. Ric and Roger Burnley were on the boat and traded world records. Roger caught a snowy large enough to be the new world record. Ric then caught one that was larger than Roger's. Roger would not let his big brother beat him and he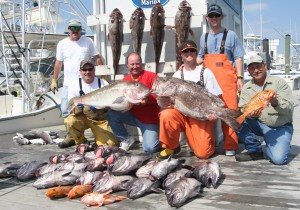 then caught our largest snowy grouper of the trip. We had three snowy grouper on board that would qualify for world records. The brothers decided to just fill out the application for Roger's largest fish. After our first world records, Virginia added snowy grouper as an eligible species for a state record. Roger's 49 pound 9 ounce fish became Virginia's initial state record snowy grouper and the new IGFA All-Tackle World Record. On that same trip, Jeff Dail set Virginia's initial golden tilefish record and Bob Manus set the IGFA All-Tackle World Record for blackbelly rosefish. It was a good trip.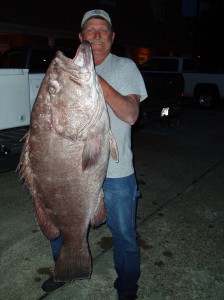 Roger's record did not last very long. We went back out grouper hunting again. Bob Manus caught a true beast of a snowy grouper. It did not look real. His new state and world record weighed in at 65 pounds 8 ounces. Surely, we had reached the ceiling. We had for a few more trips. We caught some more grouper over 60 pounds but Bob's record held until Chris Boyce cranked up another beast that weighed in at 66 pounds. Now, we had no idea how high this record march would go.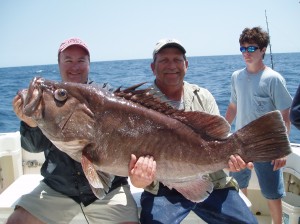 We just knew that any trip we took out there had the potential for another record snowfall.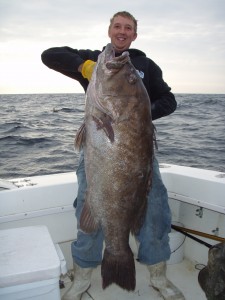 Chris' world and state record held until Jere Humphrey caught a 68 pound snowy grouper. Humphrey's record was the first not caught on the Healthy Grin. It did keep this record snowfall in Virginia. Humphrey's record stood until May 22, 2011.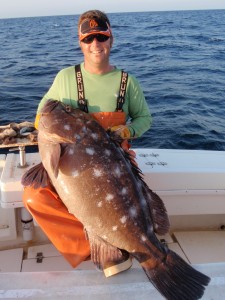 The Healthy Grin crew had grown rather possessive of this record and we went out to bring it back to where we think it belongs. Roger Burnley took the record snowfall into the next decade. His current Virginia and IGFA All-Tackle World Record weighed an impressive 70 pounds 7 ounces. How long will this record will stand? We have heard rumors of snowy grouper pushing 100 pounds being caught on commercial gear.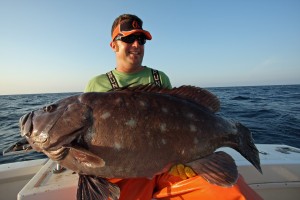 We do not know how high the record snowfall will go but the odds are good that if the record is broken again, it will be done off the coast of Virginia.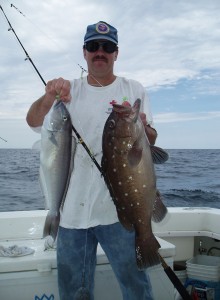 There is nothing complicated about this fishery. We use either one or two hook bottom rigs. The same rigs that you use to catch croaker or flounder, just beefed up a bit. You can use plain hooks or dress them up with beads, spinners, bucktails and such, again like a flounder rig. The baits we have caught the grouper on include squid and all kinds of cut or whole fish. The areas that we have found grouper are from just north of the Norfolk Canyon on down to east of the Cigar. We have caught them as shallow as 240 feet of water on out to 800 feet.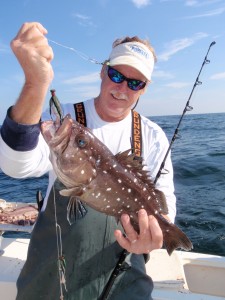 So, it is a little deeper than you are used catching croaker and flounder. These depths require the use of braided fishing line and fairly heavy sinkers. Most of the time, we are using 24 to 28 ounce sinkers when targeting grouper. You need to use a rod and reel that can handle that much weight and hold enough line to reach the bottom at those depths. Other than the greater depth and the larger quarry, it is just flounder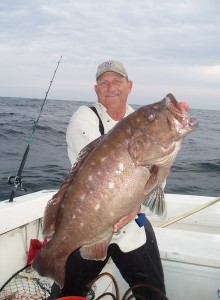 fishing. Give it a try and you might be the one to cause the next record snowfall!