Ken Neill
Published in Chesapeake Angler
Anglers targeting bluefish around some wrecks near Cape Hatteras had their tackle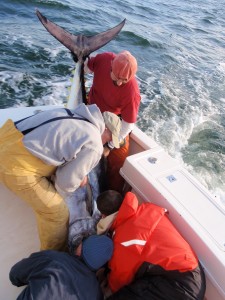 destroyed. A wintertime fishery for big bluefin tuna was discovered. That was back in the 90s. Articles were written in all of the fishing magazines and the sleepy winter town of Hatteras became a hot destination for anglers wanting to battle with one of the strongest fish in the sea. Everyone had to get down there to experience this great fishery at least once. I was one of them (a younger me). The fishing was fantastic.
This was primarily a chunk fishery; pull up around one of the wrecks, throw out some bunker, tuna boiling all behind the boat, put a hook in one of the bunkers and hold on. This was a total catch-and-release fishery due to the available bluefin quota being used up north. It was a great recreational fishery and it was great for the scientists also. The fish were being released anyway so anglers were more than happy to have the scientists place their fancy tags in the fish first.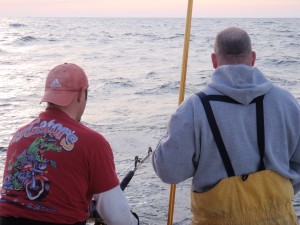 The Hatteras fishery faded but then some anglers found the fish at Cape Lookout. The fish were found on both sides of the shoals off of the cape providing for fairly protected waters to fish in most wind directions. Again, articles were written in all of the magazines and recreational anglers and fishery scientists descended on Beaufort Inlet. This fishery was a troll fishery. Large ballyhoo/Ilander combinations were the bait of choice and again, the fishing was fantastic. I made numerous trips to Morehead City during the height of this fishery. During this time, a big change was made in the fishery. A separate bluefin tuna quota was developed for the southern fishery. What was a total catch-and-release fishery turned into a very profitable commercial fishery. Commercial tuna boats of all shapes and sizes plus all of the big game recreational boats filled every available slip in the harbor. We took the Healthy Grin down there and we still are talking about that experience.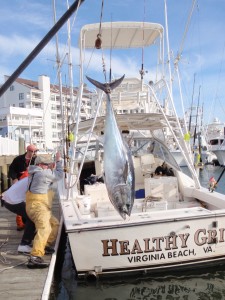 The Cape Lookout fishery has not been as hot the past couple of years. Those tuna are somewhere. Late December 2011 on into February 2012, they showed up at Virginia Beach, right on the beach. Big bluefin tuna were being hooked as close in as a half mile off of the sand. We have always had bluefin in the winter. They showed sometime in November as they made their way to the Carolinas. The big fish would typically roll on through while the smaller fish, 100 pound class, would hang around for a couple of months. Places like the Chesapeake Light Tower, Triangle Wrecks, Cigar, and the Fingers would hold fish. Sometimes, the larger, greater than 73 inch fork length fish, would hang around a bit before moving south and the Virginia fleet could get on them out there near the 20-fathom curve. This year was different.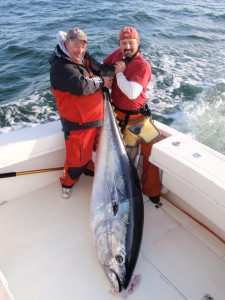 These fish hit the beach and just stayed for a couple of months. It was great but it had to be just one of those weird things that happen every now and then. One of those once-in-a-lifetime events and it was, until the following winter. The fish came back and on average, they are even larger. Magazines are publishing articles and recreational anglers and commercial tuna fishermen are traveling to Virginia in the wintertime in hopes of catching these impressive fish.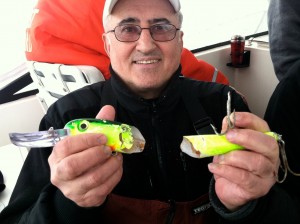 We have no idea if this will become a regular fishery or will fade away after a couple of years. Enjoy it now. The prime area is from Cape Henry to Sandbridge, from right off the beach on out as far as the Chesapeake Light Tower. To stay out of the fleet fishing for rockfish, fishing outside the 3 nautical mile line gives you more room to maneuver.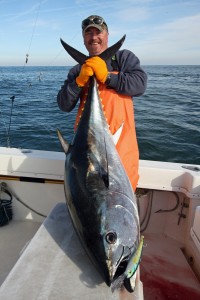 This is a trolling fishery. The horse ballyhoo/Ilander baits work well, trolled long off the riggers or down behind a downrigger; typical bluefin tuna trolling baits. Even more tuna are being caught on baits typically trolled for rockfish. Parachute jigs trolled singly or in tandem, heavy ball jigs off a 3-way swivel with a trailer, swimming plugs like the Stretch 30+ are all being crashed by big bluefin tuna. These baits are being trolled on tuna tackle with heavier leaders. Hooks and split rings are changed out on the swimming plugs for beefier stuff. Still, even with these modifications, some of this striped bass gear is being destroyed with hooks being ripped out of jigs and plugs broken in half. These are some impressive fish.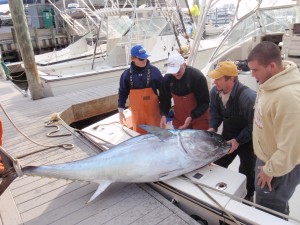 At least for now, Virginia is a new wintertime bluefin tuna hot spot.  Get out there and experience it while it lasts.