The Black Sea Bass
Ken Neill
published in the Chesapeake Angler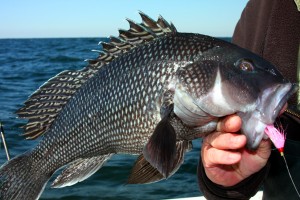 What else could you ask for? They are excellent table fare. They are available all year. They are easy to find, easy to catch and there are plenty of them around. The black sea bass may not jump like a marlin or pull like a tuna but they sure have saved many an offshore trip when big boys cannot be found. What they lack in glamour, sea bass make up for in just plain fun.
Where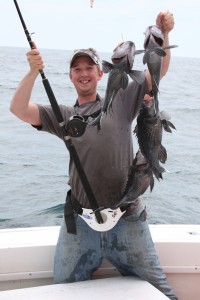 Sea bass are a structure-oriented fish. You will find them around just about any wreck, around bridges, and over any rough bottom you can find. The inshore waters will be full of immature sea bass during the warmer months. An occasional keeper-size sea bass will be caught inside the Chesapeake Bay. We have caught some decent sea bass along the
Chesapeake Bay Bridge Tunnel and around Bluefish Rock but to target larger sea bass you will need to move onto structures out in the ocean.
The Tower and Triangle artificial reefs are full of structures holding sea bass. The many shipwrecks off of our coast are all sea bass magnets: Gulf Hustler, Powell, Ocean Venture, and the 44-Fathom Wreck, to name a few.
When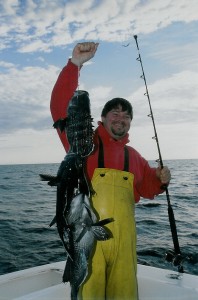 We can catch sea bass all year. If your goal is to target the largest sea bass, the dead of winter is the prime time. During the coldest months of the year, jumbo sea bass stack up on the deeper wrecks making them more concentrated, easier to find and to catch. It is a big ocean out there. The seas are typically rougher in the winter and often, you will not see another boat out there all day. This means that you need to be extra careful running out into the ocean this time of year. If you do not want to make the wintertime run in your own boat, there are plenty of great charter boats and some big head boats that will take you out after jumbo sea bass.
During the rest of the year, the fish will be more scattered. Some will still be on the deep-water wrecks for you to catch when you are out there and cannot buy a tuna bite. Most targeted sea bass trips in the warmer months will be closer to shore in areas like the Triangle Reef.
How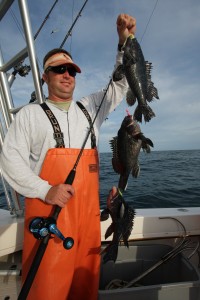 There is nothing complicated about catching sea bass. You just run out to your favorite wreck and drop a bottom rig down and start cranking up fish. Most boats will drift over wrecks while fishing for sea bass. They will use their engines to help hold the boat over the wreck. There are times when anchoring over the wreck will improve your catch. The current and wind may make it hard to stay over a wreck. Sometimes, the dogfish can be very bad all around the wreck but not bad if you are anchored directly over the structure. It is not unusual to find that one side of the wreck is holding most of the sea bass. When you can anchor over the sweet spot, the catching is incredible. When we are out after sea bass, we will start out drifting but will anchor up if the conditions warrant.
Any tackle will work. Most anglers are using braided line now for wreck fishing though any type of fishing line will work. Medium sized rod and reels, about 20-pound class, are the norm. Hand-tied bottom rigs with 2-5 hooks are commonly used. The hooks are baited with… well, anything. Sea bass are hungry and aggressive critters and will attack most anything you put down there. Squid is the most commonly used bait. Cut fish works very well. False albacore and Boston mackerel make excellent sea bass bait. Clam is not commonly used but it is a very good sea bass bait. A lot of anglers will spice up their sea bass rigs a bit by putting some type of teaser in front of their hooks to add some color. Small rubber squids, bucktails, and spinner blades are commonly used. The same kind of stuff used on flounder rigs.
No Bait Needed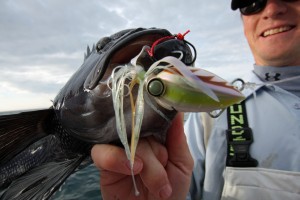 To catch a lot of sea bass in a hurry, multi-hook bottom rigs, loaded with your favorite bait, cannot be beat but you really do not need bait at all to catch sea bass. Sea bass will aggressively attack jigs. The classic sea bass lure is the diamond jig. A sea bass sharpie will pull out the diamond jig when smaller sea bass are being pests. While other anglers are cranking up small sea bass, the diamond jig will often attract the largest sea bass on the wreck.
The newer, blade type, jigs are equally effective at catching sea bass. Those funny looking bug jigs, like the Shimano Lucanus jigs, seem to just be irresistible to a sea bass. I am not sure what they think they are but must look like something good to eat.
Check the Regulations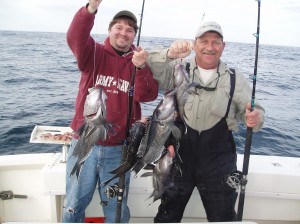 Before you head out to load the boat with these tasty fish, check the current regulations. For years, the recreational sea bass catch was mostly unregulated. A minimum size and liberal bag limit was later added but fishing was still pretty much wide open. That came to a halt in 2010. Sea bass populations appear healthy but some recreational catch estimates say that too many sea bass are being caught. Now sea bass is like many of the other fish we target with closures and regulations that change each year and sometimes within the year with very short notice. So, make sure to check the most recent regulations before planning your next sea bass trip.
The Virginia State and IGFA All-Tackle World Record Black Sea Bass is a 10 pound 4 ounce fish caught by Allan Paschall on New Year's Day, 2000.
Sea Bass Charters:
Virginia Beach Fishing Center: www.virginiafishing.com
Fisherman's Warf Marina: www.fishermanswharfmarina.com
Sea Bass Locations:
Virginia's Artificial Reefs: www.mrc.virginia.gov/vsrfdf/reef.shtm
Gulf Hustler: 36  51.676'N, 075  36.305'W
Powell: 36  49.060'N, 075  23.822'W
Ocean Venture: 37  04.425'N, 074  55.722'W
44 Fathom Wreck: 36  54.775'N, 074  42.456'W