Jack Attack!
Ken Neill
published in The Fisherman
Many different species of jacks visit the mid-Atlantic each year. We get pompano, horse-eye jack, almaco jack, rainbow runner and even a rare permit. Any of the Atlantic jacks can be an occasional by-catch in our area. The jacks which we count on to give us sore arms and broken tackle each year are the greater amberjack and the crevalle jack.
These beasts arrive in Virginia's ocean waters in June of each year and will provide action through the month of October. These fish will be large. We do not have the schools of small jacks that you find in areas to our south. It seems that only the larger jacks make the migration to Virginia. Although these fish are considered summer visitors to our waters, the largest of these large fish will be caught in the fall. September is good, October is better.
In addition to catching the largest fish of the year, there is another bonus to fishing for jacks during the fall months.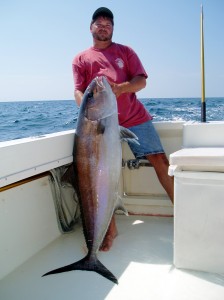 You will not have much company. Most will assume that the jacks are gone and will be fishing for other things. Anglers fishing for spadefish (always in the way of anglers targeting monster jacks) will have put their bobbers away for the year. Occasionally, you will see another boat out there around the jack structures. They will be drifting for flounder or trolling for king mackerel which will also be prevalent this time of year.
Locations
Crevalle and amberjack are both very structure oriented. You will find them around the towers and various ship wrecks along Virginia's coast. The "A Tower", commonly called the South Tower is almost a sure bet for good numbers of amberjack. On average, these fish will not be as large as those which are found on structures further north. Large jacks also will be there, you just have to weed through the "small" fish. Some good jack wrecks are the Hanks, Ricks, Gulf Hustler, and 4A Dry Dock. The Santore can hold good numbers of crevalle jack. It is not a "sure thing" like the South Tower but the largest amberjack and crevalle jack of the year will be caught at the Chesapeake Light Tower.
Tackle
Pretty much any tackle can be used successfully to catch these large fish. Also, pretty much any tackle that you use can be overpowered by these creatures. To have a have a better chance of keeping these fish from getting into the structure and breaking off, most anglers will use 30-pound class tackle and 50-pound class is not an overkill.
At times, these fish can be caught while casting top-water plugs or with a fly rod and it is a lot of fun when they are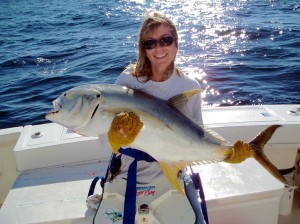 aggressively feeding like that. For consistent action, use live bait. Most commonly used baits are spot and croaker though most any fish can be used. Do not be afraid to use large baits. A two-pound croaker is a tasty morsel for a trophy-sized jack and sometimes a larger bait is what it takes to elicit a bite. A leader of 80-100 pound test is attached to your hook. Almost all of these fish will be released so circle hooks are good to use and they work fine most of the time. On days when the fish want to swim at you after picking up the bait, you may need to switch to a J-hook to help with hooking up. The other end of your leader is attached to a swivel. Above the swivel, have a sinker. This can be an egg sinker or a sinker-slide can be used.
Tricks
There are times when the jacks are there but they just are not being aggressive. At these times, try holding your bait in the boat while dropping your sinker down to the bottom. Then drop your bait into the water. This allows a more natural presentation while still forcing your bait to swim to the bottom where some big, mean fish are waiting. If you have a lot of baits, try releasing a couple as you are dropping your hook bait over.
Artificial Baits
The next best thing to live bait are jigs. Diamond jigs are very effective jack baits. The blade, "Butterfly", jigs are also very good at exciting a jack to bite. As you work these jigs, you will find that most of your bites are on the fall.
Run Away
Once you get the jack away from the structure it is just a matter of a lot of work to bring the fish to the boat. These fish hold nothing back. Getting them away from the structure is the important thing. You can try using lighter drag and tricking the fish away from the structure. You can try horsing them out of the structure. With lesser jacks you have a good chance. I am convinced that with these brutes of fall, you need the fish to make a mistake. If that 100 pound amberjack heads directly into the structure, there is not much that you are going to do about it. We have tried everything and what has worked the best for us has been the "run-away" technique. We will pull up to the structure and drop our bait down and keep the reel in free-spool. When the jack eats the bait, the reel is left in free-spool. The captain puts the boat in gear and runs away from the structure. As the boat moves away, the angler puts the reel in gear and holds on. If that fish makes the wrong first move, you have him.
For a good workout this fall, visit the towers and wrecks of our coastal waters and tie into one of the largest jacks of the year!
Sidebars:
The author has won the Virginia Saltwater Fishing Tournament's Annual Species Award for amberjack and crevalle jack two times each.
To earn a Virginia Trophy Fish Citation, you must release an amberjack of at least 50 inches long or a crevalle jack of at least 40 inches long. The Virginia state record amberjack weighed in at 118 pounds. It was caught by Mark Roberts. The crevalle jack Virginia record is 48 pounds 12 ounces caught by Charles McCaskill, III. Both of these record fish were caught at the Chesapeake Light Tower.
Jack Hot Spots
South Tower                            36 13.514′ N            075 14.970′ W       
4A Dry Dock                           36 35.918′ N            075 41.871′ W
Hanks                                      36 43.710′ N            075 34.153′ W
Ricks                                        36 47.883′ N            075 29.518′ W
Santore                                    36 53.846′ N            075 46.864′ W
Gulf Hustler                              36 51.676′ N            075 36.305′ W
Chesapeake Light Tower            36 54.269′ N            075 42.757'W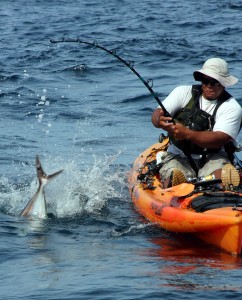 So you want more of a challenge? Try a yak jack attack!