Big Jack
Ken Neill
published in the Chesapeake Angler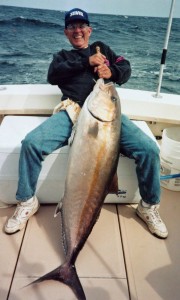 For pure pulling power and toughness, it is hard to beat a big jack. They do not hold anything back and do not expend any energy on aerial displays or blistering runs. They just pull hard, very hard. When you are ready for a good workout, make sure your tackle is in good shape, your knots sound and go fishing for big jack.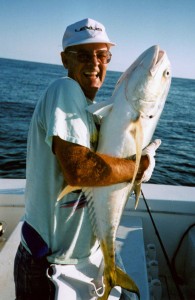 There are a lot of different species of jacks that visit our area each year and they all pull hard for their size. Our largest jacks are the greater amberjack and the crevalle jack. Both are extremely hard fighters. Neither is highly regarded as table fare. Crevalles are eaten in some parts of the world but I do not know anyone who eats them here. Amberjack is actually pretty good. There is a prejudice against eating them because their flesh often contains worms. This is an esthetic problem, as the worms do not pose a health concern to humans. Both amberjack and crevalle have been associated with ciguatera poisoning which is a serious health concern. Most jacks are released to fight another day.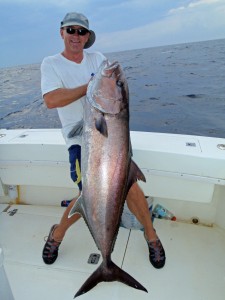 These big jacks are in our waters during the summertime on through the month of October. Often, the largest amberjack are caught during the early fall and that is usually when we have the best crevalle fishing. Both amberjack and crevalle jack are very structure oriented. Typically, you find them around the towers and wrecks off of our coast.
Top Spots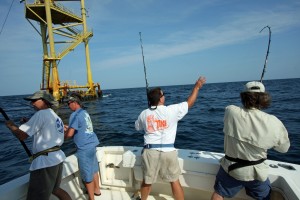 The two most popular jack spots are the Chesapeake Light Tower and the South (Navy A) Tower. Good wrecks can include the Gulf Hustler, Powell, Ricks, Hanks, and 4A Drydock. Crevalle jack will come in closer to shore and can be encountered at wrecks like the Santore and Anglo African. They make an appearance at the Chesapeake Bay Bridge Tunnel each year and schools of crevalle can be encountered in open water, away from structure, in the lower bay. This has become more common now that there are so many people cruising around looking for cobia. Both jack crevalle and schools of large drum are fairly common side encounters for these cobia stalkers.
Tough Tackle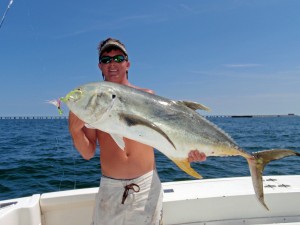 A wide range of tackle can be used to catch these bruisers. They can be caught on fly rods, spinning tackle and light jigging tackle. They will also break you off on 50-pound trolling gear. It all depends on which way they turn when you first hook up. If its first run is back to the structure, there is not much that you are going to do to stop it. You are in luck if the fish makes a mistake with its first move. Most jacks are caught with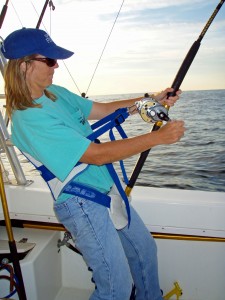 stand-up gear. These fish do pull hard, down and dirty. To save your back and arms, you may want to consider using a fighting belt and harness.
Technique
The most sure way to tangle with a big jack is to drop a live bait down by the structure. The most common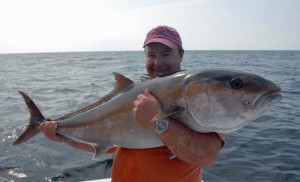 baits in our area are croaker and spot. These jacks are big and have large mouths. I have never seen a croaker that was too large for them to eat. In fact, if the bite seems lathargic, drop down the largest bait that you have. I have also seen times when dropping a quicker bait, like a bluefish, would excite the bite. You can just freeline the bait down or use a fishfinder rig or an egg sinker above the leader to get your bait down where you want it.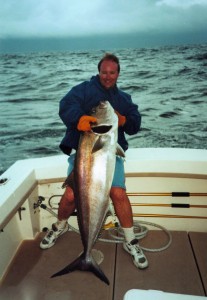 Jacks can be suspended anywhere in the water column. Often, you can see where they are on your bottom machine. Using circle hooks while live-baiting will result in fewer gut-hooked fish.
Artificial lures can also be used to catch jacks. The vertical jigs are very effective. Nothing is more exciting than catching these beast on topwater lures. Swimming shad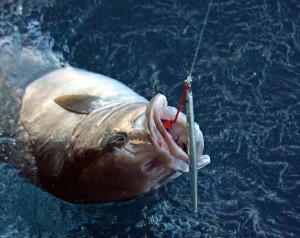 type lures and bucktail jigs can be very effective, especially when you find those schools of cruising crevalle. While artificial lures will often be all you need to score a jack, it is always good to have some live bait in case they are being finicky.
The Virginia Saltwater Fishing Tournament awards citations for released jacks. The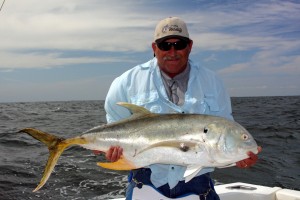 minimum length for amberjack is 50 inches. For crevalle jack, the minimum length is 40 inches.