White Hot Mid-Atlantic
Ken Neill, III
Published in the International Angler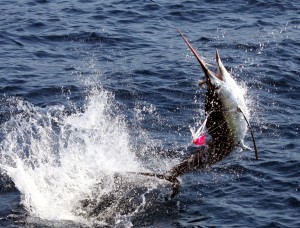 The mid-Atlantic region of the United States is a well known white marlin hot spot. It is a good blue marlin area also. North Carolina, Virginia, and Maryland all have grander blue marlin as their state records but it is the white bite that gets top billing.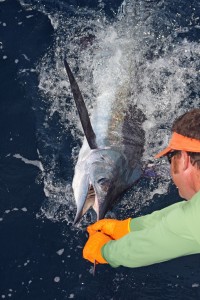 Every year, during the months of August and September, the offshore fleets gather to experience the chance at double-digit marlin bites. Once in a while, the bite will turn epic and a boat will reach the 20-fish mark in a single day. Each inlet has its unofficial record handed down through the fleet as an oral history. These records were somewhere in the mid-twenty fish range. Any year a boat would experience a trip like this, news would travel like wildfire.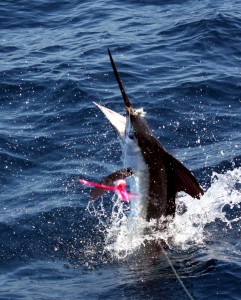 During the 2009 season, something special happened. The white marlin bite was pretty normal for August (meaning good). The sailfish bite was unusually good. During the Virginia Beach Billfish Tournament, Aug. 20-22, 53 boats fishing two days, released 2 blue marlin, 32 white marlin, and 160 sailfish. During the month of September, the white marlin bite turned epic on a level never seen before. Many boats broke the 20 fish mark and on Sept. 23, Captain Steve Richardson, on the Backlash out of Virginia Beach, caught and released 41 white marlin and 1 blue marlin in a single day of trolling. These were numbers never seen before and it was thought that fishing like this would not be seen again. Well, it was not…until 2010.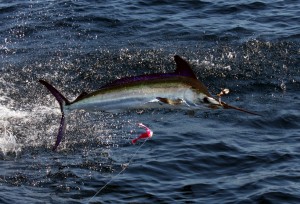 The 2010 billfish bite started early in the summer and continued to improve as the summer progressed. The mid-Atlantic billfish tournaments all experienced great catches. The Virginia Beach Billfish Tournament, Aug. 19-21, saw 69 boats fishing 2 days release 12 blue marlin, 3 sailfish, 3 spearfish, and 170 white marlin. Fishing was good and, very quietly, anglers started to wonder if it could happen again.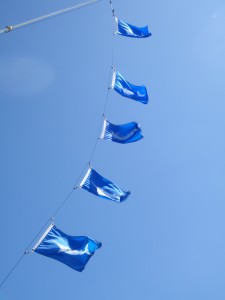 It did not just happen again, it happened better. Again, it was after the major tournaments were over when the bite just went crazy. It started around the Washington Canyon. Aug. 28, the Foolish Pleasure found the fish and released 23 white marlin. More boats had big catches on Aug 30: Osprey-22 white marlin, Reel Joy-32 white marlin, Cerveza-33 white marlin, Legasea-27 white marlin, Tar Heel-30 white marlin and 1 blue marlin, Playmate-22 white marlin, Moore Bills-25 white marlin, Makara-32 white marlin, and the Billfisher, captained by John Duffie released an incredible 57 white marlin!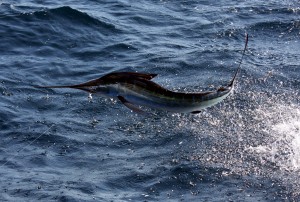 It was game-on from there. The bite spread from the Washington Canyon to the Norfolk Canyon and on south to waters offshore of the seamount called the "Cigar". Boats from Maryland, Virginia, and North Carolina were routinely flying double-digit flags. Many boats broke the 20 and 30 fish marks. The Biopsea, out of North Carolina, came in with 50 white marlin and a blue marlin release on an overnight trip, Sept. 6. On that same day, the Cerveza, out of Maryland, came in with 67 white marlin and 2 sailfish releases on an overnight trip. Captain Harvey Shiftlet, out of Virginia, released 42 white marlin on Sept. 10.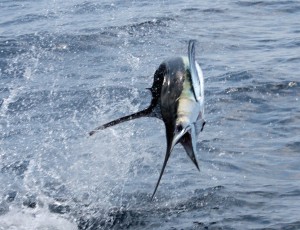 In addition to the fantastic white marlin bite, good numbers of blue marlin, sailfish, and spearfish were also in the mix. Scoring a Grand Slam in the mid-Atlantic is not usually very common but it was in 2010. Numerous boats caught slams of various combinations. Something like a blue marlin, a sailfish or spearfish, and a dozen white marlin was a fairly common catch. Productive waters were found from north of the Washington Canyon to south of the Cigar and over a large range east and west. Boats fishing in 40 fathoms found feeding fish as did boats fishing out over 1000 fathoms. Anglers just gave up trying to keep track of how many fish were seen in a day. Fish were balling bait all over and the reports were, "we must have seen hundreds". The bite was good enough that some anglers put away their trolling rods and caught these fish with fly rods.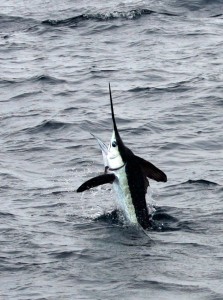 This is very amazing for a fish that was considered for Endangered Species designation a few years ago. So, what has happened? The 2009 bite was attributed to an once-in-a-lifetime combination of factors bringing good water, weather, bait schools, fish, and anglers all together at just the right time. Well, here we go again. The weather was again very good in 2010, allowing for many fishable days. There may be some other factors contributing to the abundance of white marlin seen the past two years.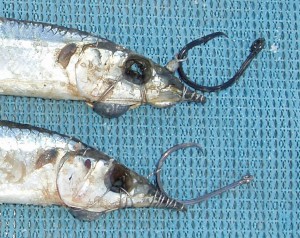 Survivability studies, using pop-up satellite tags, gave us some very important results. They showed that live marlin, released from long-line gear, do survive. This led to ICCAT regulation requiring the international long-line fleets to release any live blue and white marlin. This regulation is up for renewal this year. Hopefully, that will get done. These studies, conducted by Dr. John Graves of the Virginia Institute for Marine Science, also looked at the recreational fishery. He found that 37% of white marlin caught on J-hooks did not survive while virtually all of the white marlin caught with circle hooks survive the catch-and-release experience. Now, most boats are out there using circle hooks when targeting white marlin. Add in the areas closed to long-lines off of Florida and we have a bright future for the mid-Atlantic white marlin.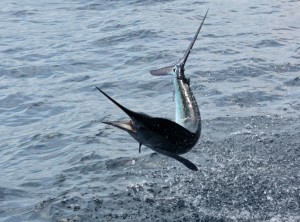 As this is written, John Duffie's single-day release record stands at 57 but the bite is still going on. The evening of Sept. 15, boats sporting double-digit release flags, were lined up returning into the inlets of Maryland, Virginia, and North Carolina. Some of these boats are flying over 30 flags. Here in the mid-Atlantic, the good-old-days are right now! While planning your 2011 fishing season, it would be a good idea to schedule some time in the mid-Atlantic region of the United States to experience some of the best marlin fishing on the planet.
For more information on this fishery, visit these websites:
Some Mid-Atlantic Billfish Tournaments
Big Rock: www.thebigrock.com
Pirates Cove: www.pcbgt.com
Virginia Beach: www.vbbt.com
White Marlin Open: www.whitemarlinopen.com
Mid-Atlantic: www.midatlantic500000.com
Some Marinas in the Mid-Atlantic
Maryland
Sunset Marina: www.ocsunsetmarina.com
Virginia
Virginia Beach Fishing Center: www.virginiafishing.com
Fisherman's Wharf: www.fishermanswharfmarina.com
North Carolina
Oregon Inlet Fishing Center: www.oregon-inlet.com
Pirates Cove: www.fishpiratescove.com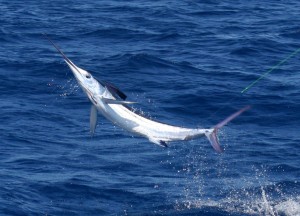 For more information about billfish research, visit: www.vims.edu/about/directory/faculty/graves_je.php