Autumn Blues
Ken Neill, III
Published in the Chesapeake Angler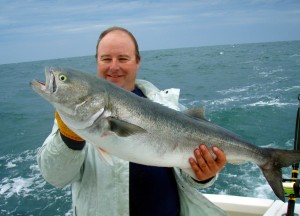 Autumn is a time of change. The days get shorter and the water cools down. Fish that spent the summer up north come back to us for some of the best fishing of the year. Striped bass will get most of the attention but for a real fight, you might want to consider the bluefish. We are not talking about the little fellows that have been with us all summer. We are talking about the hoards of returning, full-grown, ravenous, chopper bluefish.
Large bluefish return to Virginia's waters during October and will be a consistent catch through the month of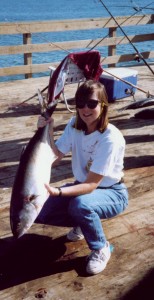 December and into January. After that, they will be a sporadic catch throughout the rest of the winter. Unlike rockfish, where the largest fish seem to come after smaller migratory fish, the largest bluefish seem to lead the pack and arrive first.
These early choppers will first stage over the many wrecks 20 to 35 miles off of the coast. The Triangle Reef, the Tower Reef and other structures in these areas are good places to hunt for the largest bluefish of the year. These early fish may not show any surface signs of being there. Your first clue that they are there may be the half of a sea bass you reel up. Later, as the larger mass of bluefish arrive, the more typical signs of bluefish will be seen: diving birds, slicks, and fish breaking on the surface. These fish will be less associated with the wrecks and will be aggressively feeding on schools of baitfish in open water.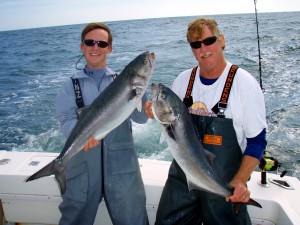 The most consistent action will remain 20-35 miles off of the coast but they will move in closer to the beach and some years, they will move into the Chesapeake Bay and will blitz the beaches along the ocean front. Look for this action around the time of Thanksgiving.
When you find the fish actively feeding on the surface or blitzing the beaches, the catching is easy. Pretty much cast anything you want to them or troll any lures around the fish. Several techniques can be used to catch fish that you are not seeing on the surface.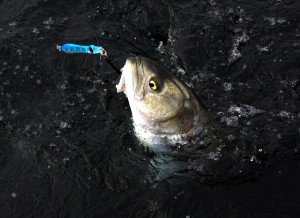 Trolling can be very effective at finding large bluefish. Concentrate your time in productive waters by trolling over and around the wrecks. Work areas where you mark bait concentrations on your bottom machine. Good lures to troll are spoons and diving plugs like the Rapala and the Stretch 30+. Trolling can lead to another technique to target these fish: vertical jigging.
Watch your bottom machine while you are trolling. If you mark a good concentration of fish, it is time to break out the jigging gear. Also, when you hook a fish on the troll there will be other fish around. While one angler is fighting the hooked fish, other anglers can be working jigs for multiple hook-ups.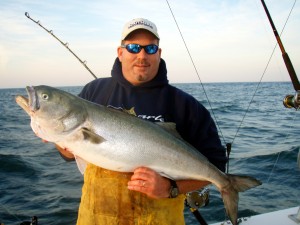 You can also just get over a wreck and start jigging. It will not take long to find out if the bluefish (and sea bass) are there. If you do not get a bite on your jigs, move to another wreck. Both diamond jigs and the newer, blade type jigs are very effective on bluefish and sea bass.
Another technique is to bring the bluefish to you. Anchor on a wreck and put over a chum bucket with ground menhaden. You can put out some cut menhaden baits, suspended  at various depths, and wait for the bluefish to find you. While you are waiting, catch sea bass and tautog. When your bottom fish start coming up in half, the choppers have arrived. You will catch them on the cut bait and when they really get going, the fun really starts. Break out your spinning rods and topwater poppers and experience the most fun way to catch large bluefish.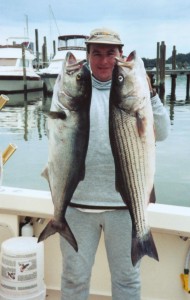 Problems With Rockfish
It is common to find large bluefish and striped bass mixed together during the late fall and winter. Rockfish are not too bad of a by-catch to have while catching bluefish in close to the beach. Out past 3 nautical miles, they become more of a problem. Out there you are not allowed to even target striped bass. Striped bass like bluefish lures just fine. Obviously, you need to release any striped bass immediately. If all that you are catching at a certain location are rockfish, you should move to another area so that law enforcement does not decide that you are illegally targeting striped bass.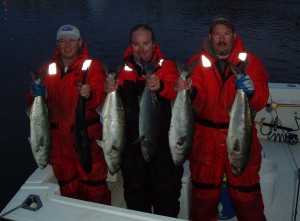 One January day, my cousin, Phillp Neill, and myself had just started fishing for rockfish off of Sandbridge. We had two fish hooked up when we heard over the radio that bluefin tuna were rolling on the surface near the Chesapeake Light Tower. I asked Phillip what he wanted to do. He said let's catch tuna. We got the rockfish in, released them and ran out to the tower. There was life everywhere: whales, working birds, slicks, and breaking fish. We put out a spread and immediately started catching rockfish. We changed the spread to all cedar plugs and kept increasing the trolling speed. I can tell you that rockfish will hit a cedar plug on the surface at 8 knots. What we did do was start catching more bluefish than rockfish. We both caught multiple citation bluefish and my cousin won the state species award for bluefish that year. We never did catch a tuna.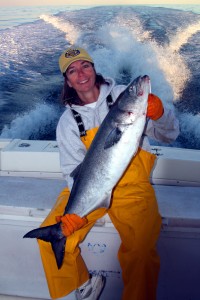 When you decide that you want a bit more of a fight this fall, give the striped bass a rest and go tangle with a full-grown beast of a bluefish.
For more information on both the Triangle and Tower Reefs, visit: www.mrc.virginia.gov/vsrfdf/reef.shtm